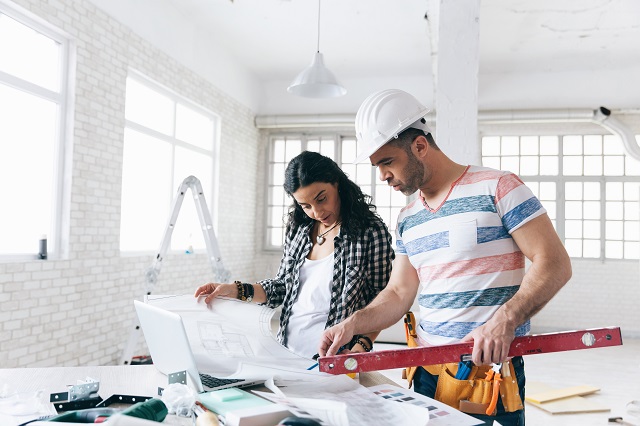 Thinking about a home addition? You're not the only one.
In a typical year, some 750,000 U.S. homeowners tackle a home addition, according to Harvard University's Joint Center for Housing Studies. Adding on to your home, as opposed to remodeling an existing space, has several advantages, starting with the fact that you get to design the space from scratch—no dealing with a funky layout or outdated plumbing and wiring.
Additions also increase the amount of living space in the home, so this home improvement project's ROI, or return on investment, will probably be better than if went for a straight remodel. And chances are you'll be able to live in your home throughout the project. That won't be the case on a whole-house gut renovation, or even a major kitchen remodel, unless you're ready to spend the next few months cooking dinner on a hot plate.
The Downside of Home Additions
While there are plenty of pros to home additions, there are also quite a few cons to consider. First and foremost is cost, which typically exceeds what you'll spend to remodel an existing space. HomeAdvisor's latest data, based on actual completed projects, puts the average cost to build an addition at just under $45,000. Most remodels, by comparison, are in the $10,000 to $25,000 range. If you're on a tight budget, here are few ways to keep costs in check:
Build up, not out.
It's almost always cheaper to add a room to the upper level a home (or even an entire second story to a one-story home), as opposed to bumping out from the ground level. That's mainly because you won't need to carry the additional $4,000 to $12,000 cost to build a foundation.
Simplify the design.
Remember the old homebuilding adage, "corners cost money." That doesn't mean you have to settle for a plain box, but understand that any design flourishes, say dormer windows or a cathedral ceiling, will add significantly to your design and labor fees.
Go bargain hunting.
One of the benefits of building from scratch is it's east to incorporate salvaged materials into the design. Nationwide outlets like Renovation Angel rescue luxury materials that were destined for the landfill and resell them for a fraction of the original price. A kitchen that cost $80,000 to install originally, including the cabinets, countertops, and appliances, might be available for $15,000 or less.
Besides costing more, home additions often mean added headaches for homeowners. For example, in addition to securing building permits, you might need to deal with the local zoning board; typical restrictions include building within 15 feet of the rear property line and within 7.5 feet of the side. These zoning rules are another reason why it's better to build up, if possible.
A Closer Look at Five Common Home Additions
The above advice applies to all home additions. Here is specific information and advice on five of the most common projects, according to the pros at HomeAdvisor.
Master Suite Addition
More than 200,00 U.S. households add a bedroom to their home each year, making it the most common type of home addition. We're seeing more and more ground-level master suite additions, part of the "master on main" trend that stems from the aging-in-place movement (not having to go up and down stairs is easier for seniors and minimizes the risk of trips and falls).
What you'll spend:
The cost of adding a master suite ranges from roughly $20,000 to $65,000. To keep the budget in check, cut back on the finish materials, for example by choosing inexpensive carpet over natural hardwood floors or a simple, yet still elegant paint job instead of pricey wallpaper.
Bathroom Addition
This is the second most common addition, completed by nearly 150,000 homeowners in a typical year. The project is popular with first-time homebuyers, many of whom have had to settle for smaller starter homes, without much-needed extra bathroom space. A bathroom addition makes sense for all homeowners, though, since it leads to extremely high satisfaction rates, according to the National Association of Realtors' 2019 Remodeling Impact Report.
What you'll spend:
The cost to add a bathroom ranges from $25,000 to $75,000; the average cost to remodel a bathroom, by comparison, is $10,000. Running new plumbing and electrical accounts for a big chunk of the budget, so taking advantage of existing lines is a good way to keep costs in check. That might mean settling on the location of the bathroom, but it can be a worthwhile compromise, especially if it means you can devote more money to a luxurious showerhead, his-and-her vanity, and other comforts and conveniences.
Family Room Addition
Close to 100,000 households tackle this home addition annually. Family rooms can function as flex spaces in the home, serving as a home office or guest sleeping quarters as needed. This addition of versatile living space helps add value to the home, making this a safe investment.
What you'll spend:
The cost to add a family room is between $17,000 and $43,000. The new space is typically a ground-floor addition, which raises the issue of foundation costs and zoning regulations. Some homeowners get around that expense and complication by adding a so-called bonus room over an existing garage. Just remember that structural reinforcements might be necessary at the garage level, erasing some of the savings.
Kitchen Addition
This big-ticket home addition is taken on by fewer homeowners—about 80,000 a year. But the reward is highest since the kitchen is the hub of the home. Given the complexity of the room, it's critical to be thorough with the planning. Prudent homeowners will spend as much as six months researching products and materials and assembling their team, which might include an architect and kitchen designer, as well as the general contractor. A kitchen addition is not the place to skimp on professional design.
What you'll spend:
The cost to add a kitchen is anywhere from $50,000 to $100,000, compared with the cost to remodel a kitchen of around $25,000. If you're banking on high-end products and materials, including built-in appliances, natural stone countertops, and hardwood floors, the budget will climb higher into the six figures. If you're looking to spend less, keep the design simple and consider second-hand materials from the salvage yard or reuse store.
Utility Room Addition
This addition typically takes the form of a laundry room or mudroom, or perhaps a combination of the two. The category also includes detached additions, ranging from simple shed-like spaces, maybe to serve as an artist studio or home office, up to in-law suites with all the amenities of a standard home, just on a smaller scale; be sure to check with your local municipality, since accessory dwelling units, the technical term for in-law suites, are forbidden in many communities.
What you'll spend:
The average cost to build a shed-like room is between $9,000 and $12,000; adding plumbing, electrical, and HVAC will increase the budget to about $18,000 to $20,000. A detached in-law suite starts around $100,000.
How to Get Started
We said it once and we'll say it again—home additions are complicated projects, so you don't want to rush the process. Once you've committed to the project, you're ready for the planning phase. Here are three steps to get you on your way:
Gather inspiration.
It's never too early to start collecting ideas for the project. Start a page on Pinterest or other social media platform, or clip pictures from magazines and create an old-fashioned scrapbook or design board.
Figure out the financing.
In order to set a budget, you, of course, need to determine how much renovation you can afford. Paying with cash is ideal since it avoids the accrual of interest. But for major projects like a home addition, many people turn to a home equity loan or another form of borrowing. Whatever route you go, it's important to come up with a clear budget (aka your "number") so that you can design the project around it.
Assemble your team.
With a basic design in mind and the financing in order, it's time to bring in the pros. Homeowners typically find an architect first, but the sooner you can hire a contractor, the better since they will be a reality check on actual project costs. You don't want to fall in love with a design, only to learn that it's way beyond your budget.
No Comments Yet