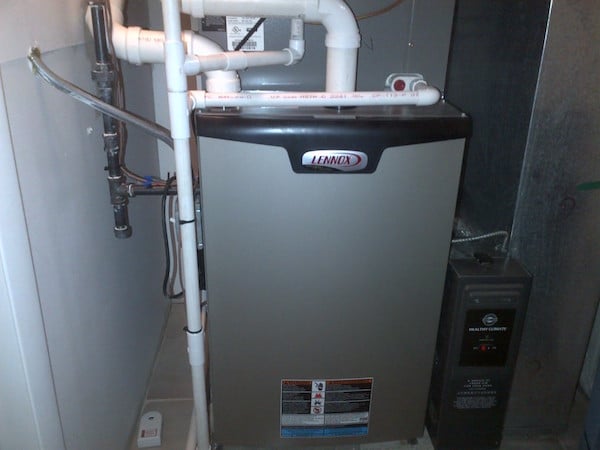 There's no simple way to tell you how much you should spend on a furnace unit, until there is an evaluation of your specific situation, including where you live, the size of your home, and your financial resources. That's why it's best to talk to a local contractor before you make any decisions. The best thing we can do for you is to put you in touch with a trusted professional, who can field any questions you have about your home heating system. Before you begin to talk to a professional, though, here are some things to consider and talk about.
The Wide Range of Furnace Prices
Furnace prices are incredibly variable. You can literally pay just a few hundred dollars for a furnace or more than a couple thousand dollars. It all depends on how much money you have to spend and what your situation and needs are. If you see a furnace listed for $500, there's probably a good (although not so good for your home) reason it's that cheap. On the other hand, don't get sucked into automatically buying the most expensive furnace you can find just because you can afford it. Spending an extra thousand dollars on a furnace that's only going to reduce your energy bill by two dollars each month isn't worth it, regardless of your financial situation.
Furnace prices depend on a lot more than just energy-efficiency, too. Heating capacity can operate somewhat independently of energy-efficiency. To heat a larger home in a cold climate, you need a high-capacity furnace (measured in BTU output) more than you need a high-efficiency furnace. You can have a low utility bill every month, but you probably won't care about saving a little extra money if it means you're uncomfortably cold in the winter.
High-Efficiency Furnaces v. Low-Efficiency Furnaces
Perhaps the most common question homeowners have is whether to spend a little extra money for a high-efficiency furnace. Unfortunately, there's no easy answer here, either. There's no way to predict just how fast fuel prices are going to rise. The exact number of years you plan on living in your home can affect how much money you're going to save in the long run. You may be able to get a tax credit for installing a high-efficiency unit. On the other hand, not only do you save money by buying a low-efficiency furnace, but you can, in theory, invest that money in some other area of your home, such as replacement windows or an insulation upgrade, and federal tax credits are capped. So you can get a break from the federal government no matter which route you take, but you can't do everything at once and expect an enormous refund for the upcoming tax year.
Premium Furnaces v. Alternative Home Heating
If you think you want or need a high-capacity, energy-efficient furnace, consider whether you should start with purchasing a new furnace in the first place. Instead of spending every last penny on the most expensive furnace you can find, look into installing hydronic heating with your furnace, installing new insulation and replacement windows, or maybe even a geothermal heat pump. Furnaces are just one part of your home heating system and, even if it needs to be replaced, putting your money into more areas of your home than just a furnace can return some amazing results on the overall comfort level of your home.
Ready to start your
Furnace Installation

?Find Pros
Furnace and Heating System Installation
Furnace prices are not the total cost of installing a central heating system for your home. According to data collected by HomeAdvisor from homeowners across the country, total project furnace prices average about $5,250. Even this average may not reflect the type of heating system you have in mind. If your duct and ventilation system or your electrical system needs upgrades to accommodate your new furnace, the price is likely to be quite a bit more. Thus, five grand might be a reasonable average for simple furnace replacement, but initial
No Comments Yet