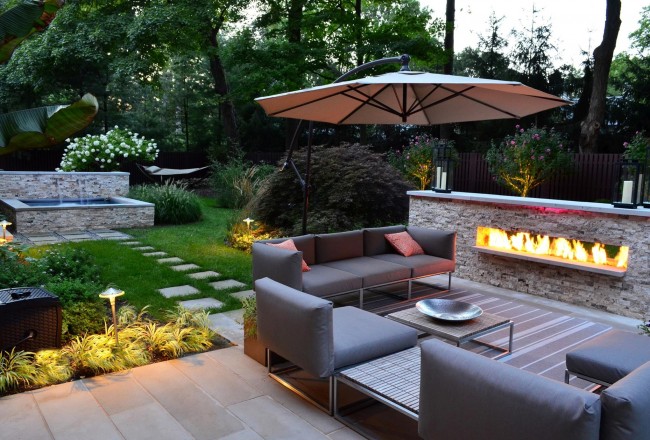 Want to add some extra living space to your home —just reclaim that unused space outside. Outdoor rooms are becoming very popular and not just in warm weather climates. Homeowners are remodeling their decks and patios into small—and full-scale—outdoor kitchens, dining and entertaining areas. They're even upgrading their electrical and plumbing systems to accommodate outdoor lighting and outdoor showers and sinks.
While building and buying the necessary parts of an outdoor living area isn't as involved as adding a new room to your house, it does require a fair amount of planning. Before you can begin picking out appliances or tile, you need to ask yourself a few questions:
What do I want to use this room for? Cooking? Entertaining? Relaxing?
What is my budget?
Do I need to build overhead protection in the form of a shade, a pergola, or even extending the roof?
Will my plan require additional plumbing?
Will my plan require additional electrical circuits?
Will I need a building permit?
Entertaining: Outdoor Kitchens, Outdoor Dining
Even with a small budget you can create an enjoyable outdoor room for dining and entertaining. The obvious first step is to add a deck or patio in your yard. But once you have this accomplished, there are a great many ways you can outfit this room.
Let's start with the kitchen. There are three basics to building any outdoor kitchen: grilling area, food prep area and sink and, of course, dining area. Unless you have an extravagant budget to work with, the grill is a good basis for most outdoor kitchens.
But, before you can even begin cooking you will want to have a food preparation area. For many homeowners, a simple counter space will suffice for this. It is, however, important to remember that the counter either needs to be able to handle the weather or well–protected by roof covering. Another basic necessity for food preparation is an outdoor sink. This will also come in handy when it's time to rinse those dishes off.
Perhaps the most important aspect of your outdoor kitchen is the dining area, as this is where you will relax and entertain. Be sure to choose a location on your deck that is comfortable. If you're eating during the daytime you're not going to want the sun beating down on you or your food. A tabletop umbrella, a pergola, or even large trees will do the trick.
Basics: Grill, sink, prep area
Extras: Mini-fridge, bar area, outdoor fireplace
Luxury items: Dishwasher, stove top
Ready to start your
outdoor addition

?Find Pros
Relaxing: Sleeping Porches, Gazebos, Outdoor Saunas
For many homeowners, relaxing in nature is as close as their own backyard. Turning to their yards as a haven from the rest of the world, homeowners are going even further than stringing up hammocks these days. Sleeping porches, gazebos and even outdoor saunas are now common features in backyards.
Whichever your relaxation method of choice, an important consideration in any outdoor room is protection from the elements. In addition to shade from the sun or even a light rain, consider erecting screens or other wind breaks on wall-less structures.
Furniture is another consideration. Weatherproof wicker and wood are popular choices and much more elegant than plastic. Even furniture you wouldn't traditionally find outdoors can be outfitted to survive in nature. Outdoor beds, for instance, can be covered in water-repellent materials or taken inside during bad weather.
Another popular trend in outdoor relaxing is the outdoor sauna. Traditional sauna-lovers will also insist that a soaking pool is necessary to take a cold plunge afterwards.
Basics: Shade, traditional outdoor furniture
Extras: Outdoor saunas, spas and showers
Luxury item: Outdoor bed
No Comments Yet