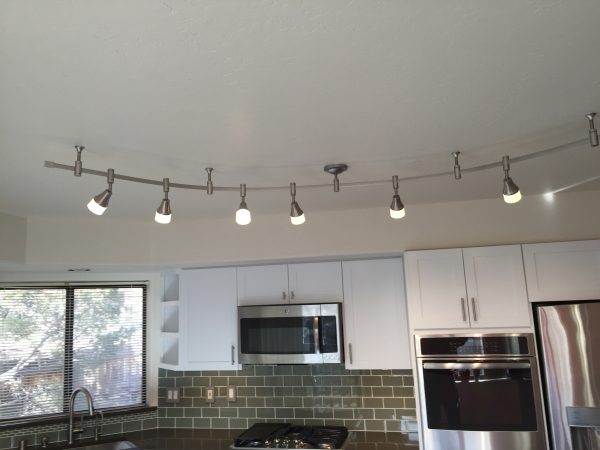 The versatility and convenience of track lighting has made it a fast growing choice among homeowners. Its stylish look and easy mobility provide an excellent lighting system for any room in the house. Track lighting is great when it comes to rearranging a space, because the position of the lamps is so easily adaptable. It is also a good choice for rooms where specific items or pieces require illumination.
The lamp portion of a track lighting system is known as a "fixture." Track lighting fixtures and different light bulbs are available in a wide variety of shapes and sizes. You're sure to find one that suits not only your aesthetic taste, but meets your functional needs, as well.
Compatibility of Track Lighting Fixtures
To go into all the different styles and forms of track lighting fixtures would take a very long time. There are many catalogues and websites that will be chock full of various models and looks. There are some technical characteristics that separate one track lighting fixture from another and that you'll need to consider before you buy.
Every fixture is designed to go with a specific type of track. Though not all track lighting fixtures work with all tracks, it is likely that when you decide on a particular style, there will be a model that looks the same (or at least very similar) that is made for the track you already have or are planning to install.
Pick the Right Track
If you already have a track lighting system, aside from replacing the track, the options you have for track lighting fixtures will be limited to those that are compatible. Those looking to install a new system will be able to choose the type of track, and, therefore, the types of track lighting fixtures it can use.
There are a few different types of tracks available. Two wire tracks are commonly available now, but their use is dwindling. Three wire tracks are generally used in new installation, and might be required by code in some areas; in these systems, the third wire is used for grounding. Three wire systems are a good choice: Their popularity will usually ensure that the style of track lighting fixture you want will be available for use with your track. Also, since the trend is leaning toward three wire tracks, you'll easily be able to find replacement fixtures in the future.
Low Voltage Fixtures
Low voltage fixtures are a popular choice among track lighting owners. They provide smaller, softer light, but are easily attached to a standard track. You can also purchase suspension bars for low voltage fixtures, so the lamp will hang a few feet below the track.
Low voltage fixtures require a small transformer in order to function properly on a standard track. Thankfully, these fixtures generally come complete with a built-in transformer. The existence of a transformer built into a fixture is a good way to tell if you are looking at a low voltage lamp rather than a standard model.

No Comments Yet