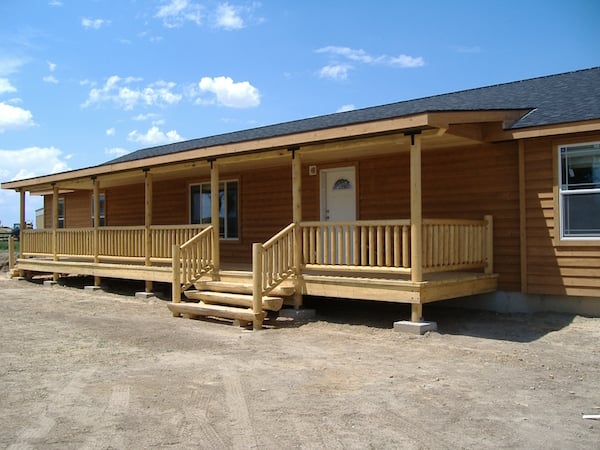 Modular homes offer many distinct advantages over traditional site-built structures. The benefits of modular home building range from financial to environmental, and once finished, most homeowners would be hard pressed to spot the subtle differences between a home constructed modularly and one constructed conventionally. Modular home construction is not the right choice for every situation, however, and understanding the processes, benefits, and drawbacks of this home building method will give you a clearer idea if modular construction is right for you.
Modular Home Construction vs. Manufactured Home Building
Though modular home construction is often associated (or even confused) with manufactured home construction, the two are as different as night and day. Manufactured homes are also known as trailers or mobile homes; they are designed to be easily moved from one place to another, making customization extremely limited. In most cases, there is very little difference in design or performance between one manufactured home and another; typically, these structures offer little more than surface customizations, as their underlying structural components are fixed by rigid government standards to keep them mobile.
There is only one thing that modular and manufactured home construction always have in common: much of the building process takes place indoors. While both methods involve truck transportation, modular home construction offers far more options than mobile home construction because modular homes are not designed to be moved once they are completed. The only function trucks play in modular home construction is transporting pieces of the house to the job site. Instead of delivering lumber, drywall, and other building materials to a lot and assembling them on-site as you would in conventional construction, pieces of a modular home are assembled off-site and shipped to the lot to be put together.
Advantages of Modular Home Construction
When compared to traditional building, modular home construction is far more efficient because a very large portion of the work is done indoors. Sheltered construction allows modular home builders to work in shifts (both day and night) and eliminates delays and material wear or loss due to the weather. Since modular home construction is able to produce many homes in a single space, there is also less waste and more recycling than you typically find in conventional home building. All of these advantages translate into two main benefits: Modular homes cost less (about 10 to 15 percent less on average) and are built faster and more efficiently than site-built homes.

Modular Home Builders Are Top-of-the-Line
The only difference between a conventional home builder and modular home builders is modular home builders are able to work indoors. There is no difference in skill level between conventional and modular home builders, and the same name brands of materials, fixtures, and other home components can be used with either method. Indeed, some modular home builders are actually conventional home builders who decided that the flexible hours and steady work available in modular home building was a step up from working on-site.
Modular Home Floor Plans
In most cases, modular home floor plans are able to support just about any feature or form you'd find in a site-built house. Though modular home floor plans are somewhat limited by the need for transporting much of the house in pieces, the fact is, anything you'd find in a new housing development is likely available in a modular home for less. Modular home builders are going to do some of the assembling on-site, as some features that are not able to be transported (like basements) are constructed in place. However, by using indoor construction for as many components as possible, modular home builders are generally able to get you the house you want faster, more efficiently, more affordably, and with fewer wasted materials than traditional home builders. Maybe that's why modular homes now account for more than one in every four new single-family homes sold each year!
Ready to start your modular home building project? Check out our True Cost Report to calculate how much it costs to prepare land for a modular home.
No Comments Yet