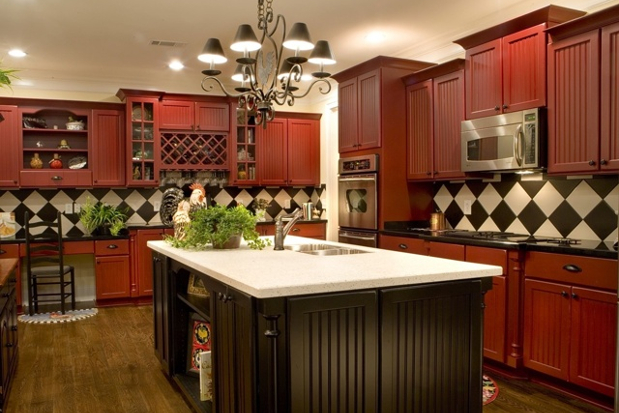 Cabinets are built for storage, but are designed for decor. Their functionality should never mean they can't also add to the decorative effect of a room. While they're not impervious to scratching or wear, they are among the less abused fixtures of a kitchen or bathroom, allowing you to choose something other than the most durable material available. This is probably why wood cabinets are so popular.
The cabinet door is the most visible part of a cabinet but, that doesn't mean you should overlook the cabinet pulls, knobs, and hinges that can provide the extra kick that so many cabinets lack. The most important consideration for any cabinet hardware choice is how that feature will fit in to the rest a room's decor. Concealed hinges may seem like the way to go but, in reality, they work best for a more minimalist, contemporary kitchen or bath. A more traditional kitchen or bath should use decorative hinges and pulls to enhance the more ornate decorative scheme.
Concealed Cabinet Hinges
If you simply must have your hinge invisible or have a contemporary kitchen or bath, concealed hinges will streamline the look of your cabinets. It also makes installation more difficult, although this is really only a concern for the DIYers. Fully concealed hinges, also called European hinges, aren't necessary to minimize the visual effect of your hinges. Inset and semi-concealed hinges will allow for easier installation and still keep your hinges more or less hidden.
Decorative Cabinet Hinges
Decorative, concealed, and semi-concealed are only the broadest categories of hinges. Coach, counterflap, flush, self-closing, and rising butt are just a few of the specific kinds of hinges out there. If you haven't found a hinge you've liked, you probably just need to look a little harder. You don't need to shy away and embed your hinge into your cabinet just because you have a set idea of what a hinge looks like. The myriad designs allow you to find a hinge in any shape or size. Plus, there are just as many finishes as there are designs, meaning your hinge doesn't have to look like the typical shiny brass hinge, either. Playing with contrasting colors that match the color scheme of your entire kitchen or bath can be the perfect way to ensure your hinges are working for you.
Ready to start your
Cabinet Installation

?Find Pros
Decorative Cabinet Pulls and Knobs
If you decide against a decorative hinge, choosing a decorative cabinet pull or knob can still spruce up your cabinet hardware. Again, don't get locked into the first pull or knob you see. Don't think these decorative touches are going to ruin your kitchen or bath. The dramatic effect of a cabinet pull may be exactly what the room is missing. The added advantage of a cabinet pull or knob is that it allows you to mount your cabinets flush to their frames without creating any difficulty opening your cabinets. A small pull or knob may actually enable you to further streamline the look of your cabinets.
No Comments Yet