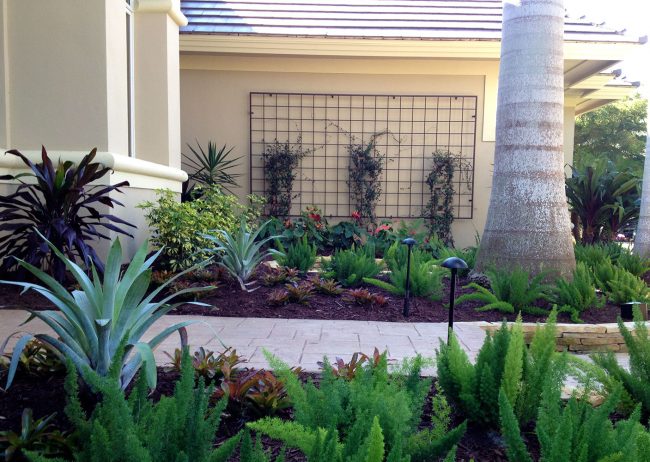 What do people think of your house when they drive by? If you're unsure, your curb appeal could probably use a quick overhaul. Fortunately, giving your home an outdoor update doesn't have to require thousands of dollars and a professional landscaping crew. Here's a quick checklist to help you improve your home's curb appeal.
☐ Paint your front door. An alluring front door will light up your porch and give your home a stylish flair. Use leftover paint from another outdoor accent piece or choose a bright, new color. (Be sure to use outdoor paint.)
☐ Touch up your paint. If you haven't repainted your home recently, it may be time for a refurbishment. If you don't have the time or budget to repaint your entire home, just touch up the spots that need it most. Peeling paint, rotted boards and stained or moldy siding can ruin your home's curb appeal.
☐ Repair your railing. If the railing lining your walk is leaning, damaged or looking bad, give it a quick update. For a leaning railing, reset the posts with a little quickset concrete. If your railing is rusted or peeling, sand it down and add a new finish or coat of paint.
☐ Replace your window frames. Replace your rotten or dated window frames with energy-efficient vinyl or wood models. New window frames will save you money and boost your curb appeal.
☐ Clean your windows. Dirty windows can make even a new home look rundown. Depending on the size of your home, you can have your windows looking spick-and-span in an afternoon.
☐ Straighten your gutters. Loose or bent gutters detract major points from your home's curb appeal. Reattach loose gutters and replace any bent or damaged portions. If you're not sure about tackling this project on your own, call a pro.
☐ Replace your house numbers. Are your house numbers missing or hard to read? Replace your dated or missing numbers with a new, tasteful set that's visible from the street.
☐ Repaint or replace your mailbox. A dented or scratched mailbox is a surefire way to ruin your curb appeal. If your mailbox's paint is scratched, give it a new coat. Visit your local hardware store to find a replacement for a dented or damaged mailbox. Installing a brick mailbox can cost you more for initial installation but will require less upkeep, and will serve as an appealing fixture in your yard. Brick mailbox prices vary depending on its size and the cost of professional labor in your area.
☐ Clean up your yard. Place new mulch in your flowerbeds, cut the grass and sculpt (or just prune) your hedges and bushes to give your yard a fresh look.
☐ Add some lighting. Make sure your porch light works. If the fixture is broken, install an eye-catching replacement. Add some small lights along your front walkway as a finishing touch.

No Comments Yet