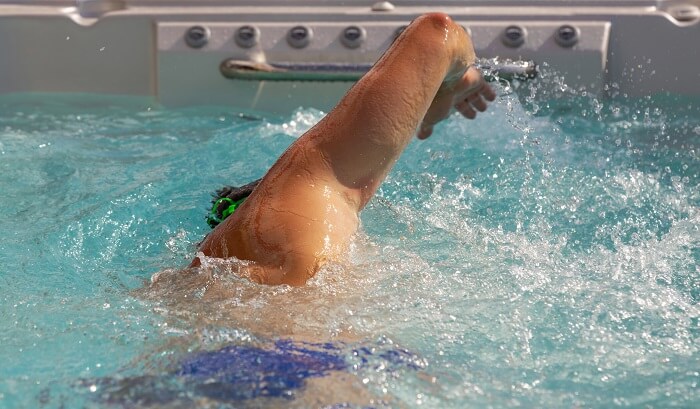 An Endless Pool is a small swimming pool equipped with a circulating system that allows you to swim in place. These relatively new additions to the swimming pool scene can be installed just about anywhere, are perfect for everything from therapeutic exercise to keeping in shape, and sport operation costs that are comparable to your average hot tub. If you've been looking for an effective, safe, and fun form of exercise that doesn't require a gym membership or trips to the local rec center, then an Endless Pool might be exactly what you've been searching for.
How an Endless Pool Works
The design behind these exercise pools is relatively simple. A large propeller circulates up to 5,000 gallons of water per minute through specially designed vents, creating a river-like current in the pool. The pool is also equipped with vents at the rear that re-circulate the water back to the front, where the propeller circulates it back through pool and the process starts over again from there. Since you can easily adjust the rate of flow yourself, the result is an exercise pool that allows you to get the exact amount of exercise you need. And because these pools are built just large enough to accommodate your average-sized swimmer, they can be installed in places where a larger swimming pool would be entirely out of the question.
Installation Requirements for an Endless Pool
In fact, one of the biggest draws of these swimming pools is their versatility. They are just as at home in a sunroom as it is in your backyard. The only requirement is that the floor beneath them can accommodate approximately 200 lbs. of pressure per square foot. From a practical standpoint that means these pools can be installed almost anywhere outdoors and in indoor spaces that are built directly over the ground (i.e. first floors and basements). With the help of a competent contractor, however, they can be installed anywhere that proper support is provided, including second and third story applications.
Finding the Right Location for your Endless Pool
Because they can be installed anywhere, choosing a location for an exercise pool can create a bit of a conundrum. For those with limited space and budgets, it's probably a good idea to survey spaces in your home that could be converted into a pool area. Garages and basements are two of the most popular choices because they are often underutilized to start with. If you've got a little more space and money, however, think about building a new addition to house your pool. It will allow you to design the perfect room to match your needs and personality. And if you've got the outdoor space to accommodate it, installing your pool outdoors is a fine option as well. The only caution here is the weather. If you live in a warm climate, you've got nothing to worry about. If you live in an area where the mercury dips, however, be sure you insulate and maintain your new pool properly so that it won't incur damage when the temperature drops below freezing.
Hire a Professional to Do the Job Right
If you're interested in an Endless Pool, be sure to contact the appropriate contractors in order to get your pool installed correctly. Both pool contractors and general contractors might be necessary, depending on where you choose to put your new pool and how much of a remodel you plan to go along with it. Regardless of the extent of your vision, by hiring a pro you will be able to rest easy knowing you'll enjoy the benefits of your new exercise pool for a long time into the future.
No Comments Yet