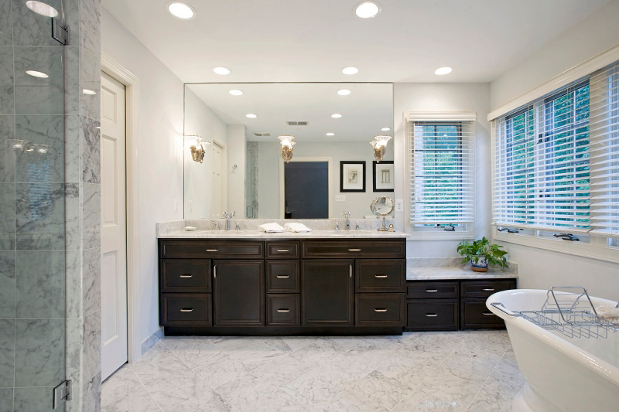 In the past, the bathroom was thought of as a strictly utilitarian space. You get in, take care of your business and get out. But these days, savvy homeowners are taking another look at the bathroom and finding it's a great place to bring quality of life into the home. Bathroom design these days blends both form and function to create a space where you can relax in a spa.
Showers and Baths
The shower or bathtub is a great place to start your bathroom project. A large whirlpool bathtub is beautiful and luxurious. Manufacturers now make them in all sizes and shapes, with massaging jets, headrests, footrests, lumbar support—you name it. On the other hand, if your space is limited, stand-alone showers have come a long way. The latest trend is multiple showerheads for a more relaxing experience. "Rain" overhead showerheads are also very popular and can provide an instant upgrade for your bathroom without a whole lot of hassle.
Floors
Traditional porcelain tile is durable, straightforward and sensible, but these days, ceramic and stone are the materials of choice. Consider not only color but texture, too. Laminate wood flooring is a popular option for folks who love the look of hardwood but don't want the upkeep. And for real luxury, nothing beats a heated floor. Electrically-heated flooring keeps your feet warm on those cold winter mornings and radiates warmth through your whole bathroom.
Ready to start your
Bathroom Remodel

?Find Pros
Vanities
The bathroom vanity is the quickest and easiest way to give your bathroom a makeover. Sinks come in a range from the traditional to the ultra-modern. Vessel sinks, with basins that sit on top of (as opposed to being recessed into) the countertop, are all the rage these days. They come in marble, ceramic, glass and more, and in every design you can think of. As for the vanity itself, your choices range from French Countryside to Ultramod and everything in between. A beautiful vanity sets the tone for the whole room and is a cornerstone of modern bathroom design. And don't forget the faucet: it's another great way to personalize your space.
Mirrors
They used to be simple: rectangular, with the old rounded edges, maybe a medicine cabinet hiding behind there. But in modern bathroom design, the mirror is another great way to bring personality to your most personal of rooms. They come in all kinds of shapes and sizes, with borders of everything from mahogany to mosaic, even snakeskin! Fog-free mirrors are the latest innovation; they save you time in the morning as you go from showering to your morning beauty ritual.
Lighting
Another great, and often overlooked, aspect of bathroom design is lighting. Vanity lighting above the mirror is useful when you're shaving or getting ready to go out, of course, but you might also consider using recessed or spot lighting to highlight certain features of your bathroom and give the place an airy feel. Lighting designs have come a long way and are the perfect finishing touch for a modern bathroom design.
When remodeling, be sure to speak with a bathroom contractor who can help you consider various aspects of the design to create a space that is truly personal and unique.
Ready to start your
Bathroom Remodel

?Find Pros
1 Comments