May 3, 2017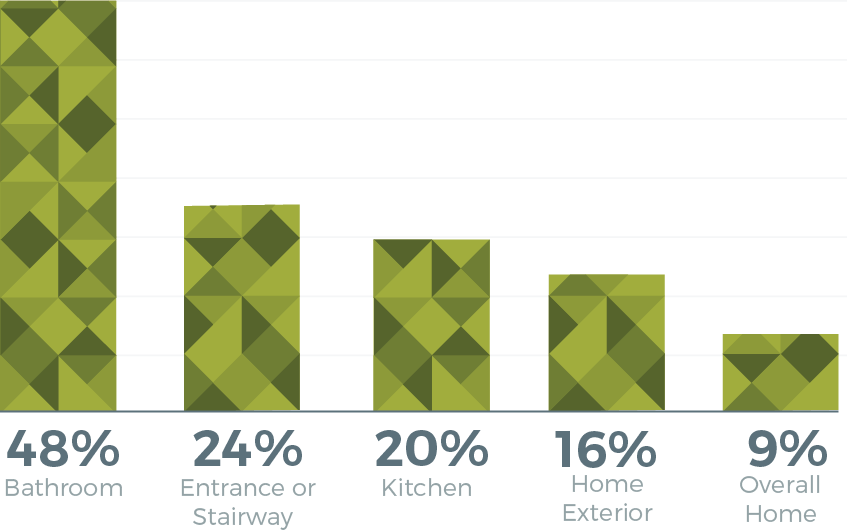 (Percentage of "location within home" for Aging-in-Place Modifications)
A key factor driving the current surge in home improvement relates to the changing needs of the baby boom generation.  Age and mobility-related modifications are already a $13 billion sector of the economy, and growing rapidly.  More importantly, this surge will incorporate a broader set of modifications than most people currently anticipate.
HomeAdvisor research shows that grab bars and ramps are still at the top of the list of modifications that this group needs, at 76% and 64% of aging-in-place requests, respectively, but it also highlights growing demand for modifications that have broad appeal, and that do not have any "elderly" stigma, such as lever-handled doorknobs (30%), soft flooring (29%), pullout shelves (25%), and electrical outlets that are a little higher off the floor (10%).
Rapid Growth in Demand
The Remodeling Council of the National Association of Home Builders (NAHB) this week released the results of a survey, which indicated that 80% of remodeling companies are doing aging-in-place projects, up from 68% in 2013.  They reported that the five aging-in-place modifications that saw the largest increases since 2013 were:
Added lighting/task lighting, up 12%
Curbless showers, up 9%
Grab bars, up 7%
Non-slip flooring, up 7%
Widened doorways, up 5%
Baby boomers account for nearly half of all spending on home improvement projects nationwide, and when they undertake a project, they invest "for keeps." More than 60% of them plan to stay in their home as they age, so with that expectation in mind, they tend to pay a little more to get high-quality materials, and to get the best workmanship.  Even after the kids move out, most empty-nest parents want to remain in a single-family home (some want to downsize to a smaller home or a condo/townhome, but just do not).  On the contrary, many empty-nesters are deciding to reconfigure space within the same home in order to have space available for the kids (and grandkids) when they come to visit.  When people of this generation put money into a home improvement project, they invest with a long time horizon in mind, and that can include putting in features that will help them as their knees get creakier and their eyesight less keen.
We are also seeing an increased willingness on the part of homeowners to invest in their homes.  Our newest study discusses the surge in spending, and ties it to the recent rebound in homeowner equity.  With their especially-strong equity position, the baby boomers outspend any other generation on a per-household annual-expenditure basis.
Living at Home Well … and Living at Home, WELL
The discussion has moved well beyond aluminum grab bars and widened doorways; we now talk about changes that can optimize the house to support aging-in-place or as several have rephrased it, "thriving-in-place", that appeal to all ages.  A good example:  improvements that provide more light, particularly natural light, appeal to everyone, but are particularly helpful to people whose eyes are no longer as sharp in dim light. Motion-sensor-triggered lighting in areas with steps or other tricky spots can help everyone, and can be a life-saver for older people.
Instead of "aging-in-place," which sounds unappealing to my ear, I thought about the more appealing phrase "living at home … WELL."  I use the word "well" with two meanings, both of which are applicable here; "well" meaning with style and ease (for all ages), and also meaning in good health.  Example:  switching existing round doorknobs to lever-style doorknobs can help everyone live "well," helping a person who has arthritis, but also helping the young mother who is holding a baby to get through a door.
Another example:  there are smart-home technologies that are not only helpful to people as they get older, but that also make things more convenient and more fun for younger buyers.  Examples include the well-established and familiar upgrades like security systems, programmable thermostats, and garage door openers, but also newer types of upgrades such as voice-activation and smartphone controls for lights, appliances, thermostat, and other home systems.
Again:  living at home, well.
But how should businesses market to an older, less tech-savvy, buyer?  These systems are not being marketed directly to older homeowners (and we believe that a huge opportunity exists for businesses to provide more of a hand-holding approach for them).  A survey of home service professionals undertaken by HomeAdvisor found that two-thirds (67 percent) of homeowners over age 55 believe smart-home technology could help them age in place, yet fewer than 1 in 5 (19 percent) have actually considered installing it for such purposes.  They need more guidance and support than they are currently getting.
Fortunately, people in their thirties and forties with aging parents, some of whom are the early adopters of smart-home tech, are often buying the more cutting-edge systems for their parents, which substantially accelerates adoption of the less familiar technologies by the retiree group. A 2016 study undertaken by Xfinity found that one in five consumers who bought smart-home technology did so with the motivation to assist in providing care for elderly parents.
No Comments Yet