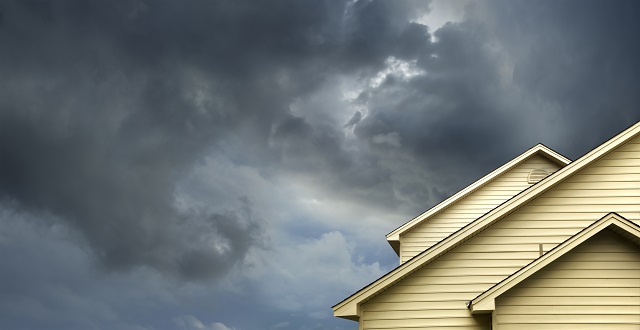 What's the next big thing in real estate? A few hundred industry experts gathered in Austin, Texas recently for the National Association of Real Estate Editor's 90th annual conference to try to answer that question. While the real estate market is notoriously fickle and hard to predict, here are five trends you can take to the bank.
More bad weather in the forecast
Climate risk is a clear and present danger to real estate. In fact, 2017 was the most expensive year in recorded history for weather and climate-related insurance losses, costing the U.S. more than $300 billion, according to the Counselors of Real Estate. The concern for property owners is that insurance costs will rise sharply and that certain types of risk will no longer be covered. Flooding is already excluded from standard homeowners' insurance policies. Other types of extreme weather, like hurricanes and wildfires, could follow suit.
What's more, insurance doesn't cover the loss in value that follows extreme weather. For example, home values typically decrease 6% after a hurricane, and they're down more than 10% by year three. That's a lot of loss for homeowners to weather, well after the storm has passed.
Wellness on the rise
The connection between home and health has never been clearer. Wellness isn't just a buzzword; it's big business. Manufacturers and marketers are racing to deliver products with true health benefits for homeowners. That includes non-toxic finishes and paints that clears the air of harmful VOCs (volatile organic compounds); human-centric lighting that more closely mimics natural light, improving sleep patterns and productivity; and hands-free faucets and fixtures, which reduce the transfer of germs and bacteria.

Aging in place is another main driver of the wellness trend—10,000 Americans reach retirement age every day and most seniors say they plan to stay put in their existing homes. Manufacturers are rolling out products that meet this need without sacrificing style, including attractive grab bars and shower seats that coordinate with the surrounding decor.
Affordability fears continue
Though the U.S. is enjoying its longest economic expansion in history, affordability continues to be a drag on housing. A shortage of inexpensive starter homes is a big part of the problem. When new housing starts dropped off during the recession, the single-family homes that were being built skewed large and luxurious. Making matters worse, speculators are going after affordable homes like never before. In 2018, investors scooped up about 20% of starter homes, twice the rate from 20 years ago, according to Core Logic. In the hottest markets, they purchased nearly half of the most affordable homes.
To solve the affordability crisis, developers will need to build more starter homes. That will easier said than done, given restrictions on land use, persistent labor shortages (the construction industry has more than 400,000 unfulfilled jobs), and rising costs of building materials.
The American home—and neighborhood—is changing shape
Ever since the post-war housing boom, homes and communities have been built with a mom, dad, and 2.2 kids in mind. But the nuclear family represents just 20% of today's home buyers. The two largest segments are single households (28%) and couples without children (25%). Meanwhile, the rate of multigenerational family households continues to rise, with 64 million Americans now living with more family under one roof.
These changes are sparking demand for new real estate models, including the rewriting of zoning laws to allow dense housing, like duplexes and triplexes, into traditionally single-family neighborhoods. More communities are also legalizing accessory dwelling units, or small homes that share a lot with the main house, say in the form of a garage apartment or backyard casita.
Gen Z on the doorstep
Millennials have dominated the housing conversation in recent years. They're not going away, but there's a new kid on the block: Gen Z, which will soon be the largest U.S. demographic at 82 million strong. The oldest Gen Zers are 24, so they're just entering the potential home buying phase. Unlike Millennials, they're reaching that station in life during a time of economic prosperity, so their views on homeownership are exceptionally positive. Nearly 90% say they plan to buy a home before they turn 35, according to a survey by Homes.com.
Another marker of Gen Z is their diversity, with nearly half coming from communities of color. When surveyed, six in ten Gen Zers said they would prefer to live in racially and ethnically diverse neighborhoods, compared with just 12% who said they want to live with people who look like them. That promises major implications for the makeup of tomorrow's neighborhoods.
No Comments Yet