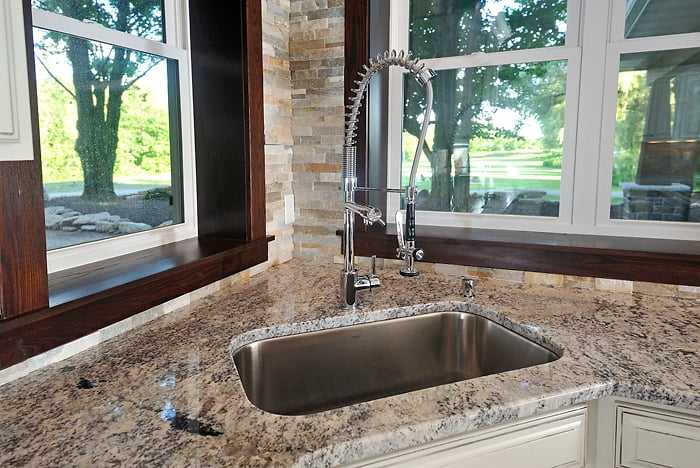 With the nationwide upsurge in kitchen and bathroom renovations, sink installations are following suit. According to recent data from HomeAdvisor — the nation's largest marketplace connecting homeowners with trusted home service professionals — there has been a 24 percent increase in homeowner requests for faucet, fixture and pipe repair in the past 12 months alone.
According to HomeAdvisor's True Cost Guide data, most homeowners paid between $227 and $851 to install a new sink — bringing the average national cost for sink installation to $526. Here's a look at the sink types and materials most popular in the past year's projects:
Stainless Steel — 40%
Of homeowners requesting sink installation services through HomeAdvisor, 40 percent installed a new stainless sink. The popularity of stainless — other than the fact that it matches now-near-standard stainless steel appliances — is most likely due to the fact that the material is affordable, versatile and easy to clean. Of course, stainless isn't without its downsides: It shows water spots, and it's highly susceptible to scratching as well.
Porcelain — 28%
Porcelain, another classic, ranked second in popularity among homeowners. Porcelain and other clay-based ceramic materials are warm and timeless, and there are a number of shapes and colors available to suit any design palette. The downside to porcelain is that it cracks and chips easily. It is also susceptible to stains and discoloration.
Enameled Cast Iron — 13%
Enameled cast iron — typically finished with a hard porcelain enamel — ranked third. Among the most durable of all sink materials, cast iron is heavy, long-lasting and easy to clean. The drawback to enameled cast iron is that the porcelain finish is prone to chipping over time.
Plastic — 9%
Of homeowners requesting sink installation through HomeAdvisor, 9 percent installed a plastic, or acrylic, sink. Plastic, while among the most cost-effective sink options, is also among the least durable. However, there are a number of attractive options available.
Granite Composite — 8%
Ranking fourth among HomeAdvisor users, granite composite sinks are composed of roughly 80 percent granite and 20 percent acrylic — and they offer the best of both worlds as well. Granite composite sinks are attractive, durable and scratch resistant. They are also one of the more affordable sink options available.
Marble — 2%
Just 2 percent of homeowners requesting sink installation through HomeAdvisor installed marble sinks. This is most likely because marble is expensive and difficult to maintain. While among the most attractive sink materials, marble is also the most expensive — and it is highly susceptible to staining and other damage as well.
No Comments Yet