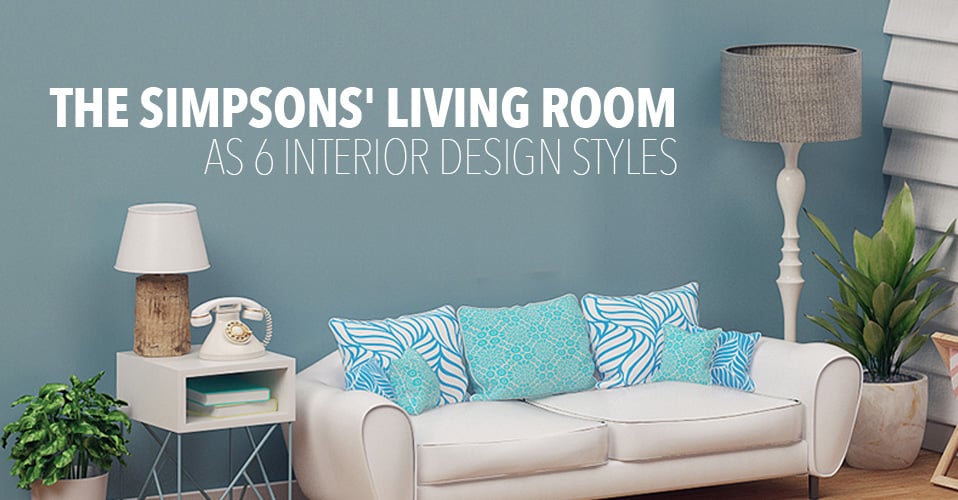 There aren't many living rooms as instantly familiar as the one belonging to the Simpsons family. And while much has changed since they first appeared on screen, the décor of that room in the opening credits has remained the same.
The design style is intentionally simple and understated, reflecting the premise that the Simpsons could be any blue-collar American family. But what might their living room look like with a makeover? From the high glamor of Hollywood regency to the raw and rustic industrial feel, we've re-imagined it in six unique styles that might just provide the inspiration you need for your own living space.
1. Industrial
As a power plant employee, Homer would feel right at home in an industrial living room. It's all about exposed brickwork, wood, and metal, which offer the room a rustic yet stylish feel. Ornamental abstract art, simple but elegant light fixtures and grey paint tones finish off the space perfectly.
2. Coastal
The Simpsons don't live by the sea, but that's never stopped anyone from celebrating all things nautical. Shades of blues and whites are the primary colors to use in this style. Seaside accessories like oars and shells are essential, while a shiplap accent wall gives the room a light and airy feel.
3. Bohemian
If anyone in the Simpsons household would embrace bohemian decor, it's Lisa. Vintage furniture, exotic rugs and decorations from around the world are the key features of this style. The 'boho' lifestyle is about being carefree and adventurous, perhaps summed up best by rich, vibrant colors and a purposefully messy layout.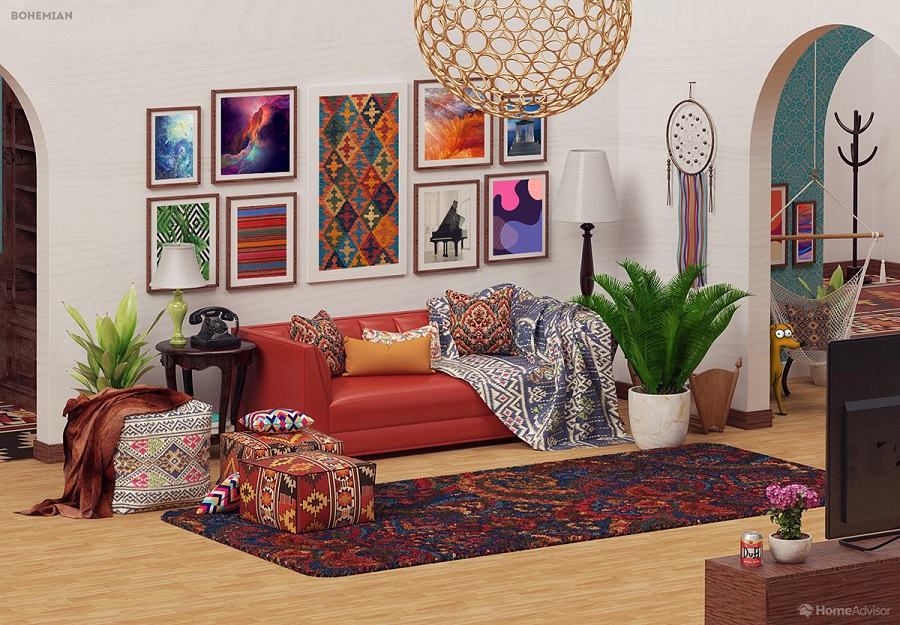 4. Shabby chic
Marge probably wouldn't like the chaos of a bohemian living room, but she and Lisa could compromise on the softer, more feminine flea market aesthetic of shabby chic. This style is all about mixing and matching finishes, colors and styles. Vintage furniture, wall hangings and floral accessories would give the Simpsons' living room a more stylish – though equally casual – feel.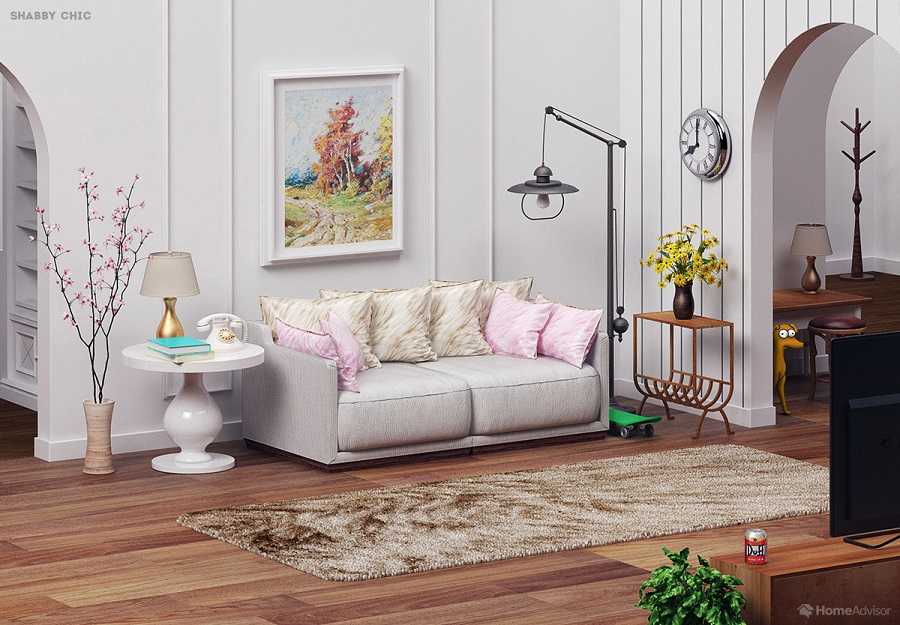 5. Hollywood regency
A Hollywood regency living room redesign would make the Simpsons the talk of the town. This style is all about glamor and sophistication (not words normally applied to Homer and Bart), with contrasting color combinations like pink and green or turquoise and lemon. Opt for bold statement pieces like black furniture with gold accents, complemented by luxurious fabrics. You can get away with this decor in Hollywood, but how about in Springfield?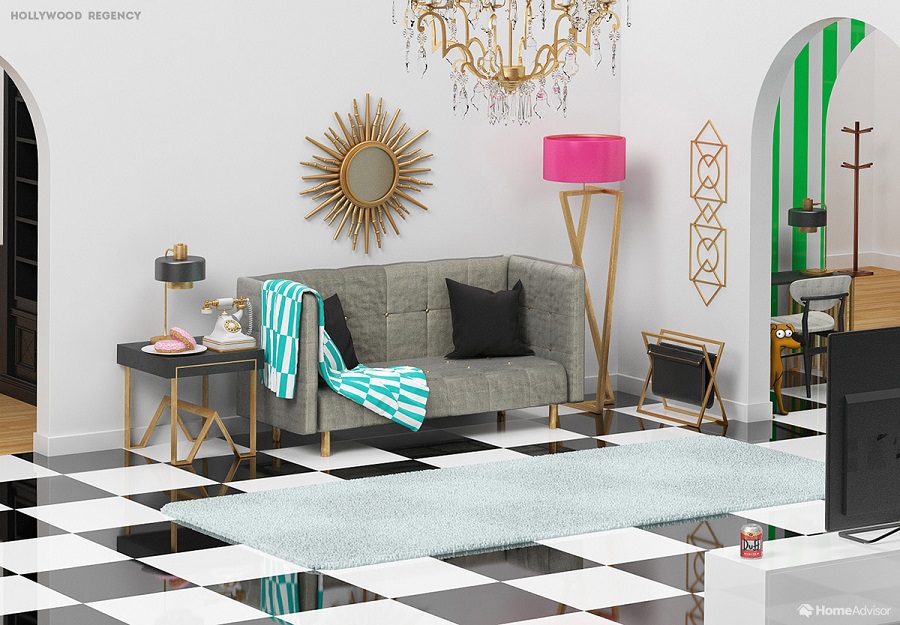 6. Mid-century modern
The Simpsons have been on our screens for 30 years but if they were a bit older, their living room may have been designed in a mid-century modern style. Functionality is key here, with a taste of minimalism but a more colorful palette than you'd find in true minimalist design. Mustard yellow, green and even carnation pink are popular choices. Clean lines and sleek furniture tie everything together.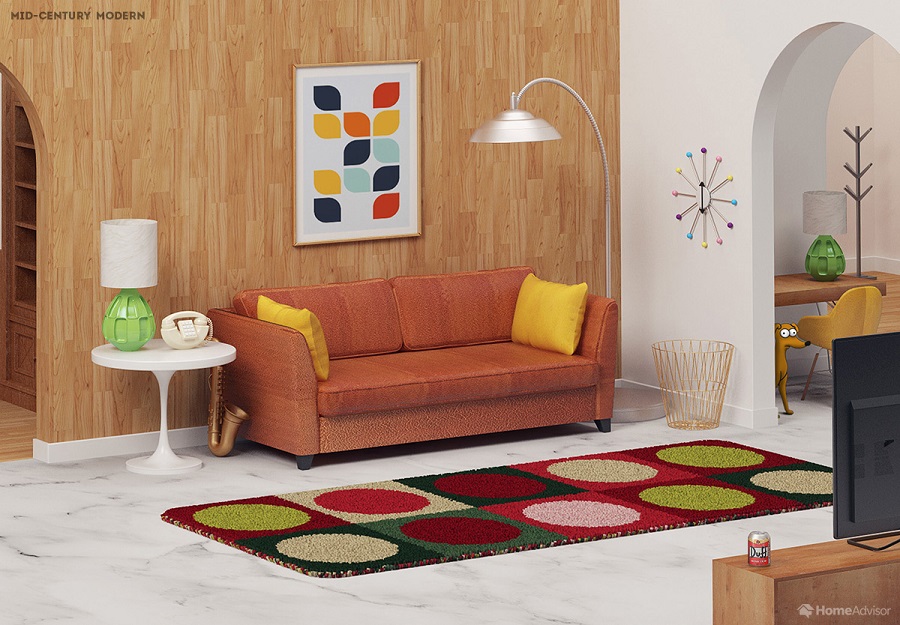 If The Simpsons creators ever decide to shake up the design of that world-famous living room, any of these would be great options.
But which one best suits your family?
Add this graphic to your site:
Click the text below.
Copy the selected text.
Paste the code on your website.
Sources
Rochele Decorating. (2017) 14 Most Popular Interior Design Styles Explained. rocheledecorating.com.au
Chatt, F. (2016) Interior Design Styles: The Definitive Guide. amara.com
Smart, B. (2013) How to Achieve Bohemian (or "Boho-Chic") Style. homedit.com
Leahy, L. (2016) Interior Design Styles: 8 Popular Types Explained. froy.com
Barros, B (2015) Inspiring Interiors Showcasing Shabby Chic Style. delightfull.eu
Gerber, C. (2017) All You Need to Understand Hollywood Regency Style. laurelandwolf.com
LuxDeco. (2017) Interior Design Styles 101. luxdeco.com
Abbas, A. (2017) 5 Things You Should Know About the Mid-Century Modern Style. thespruce.com
1 Comments