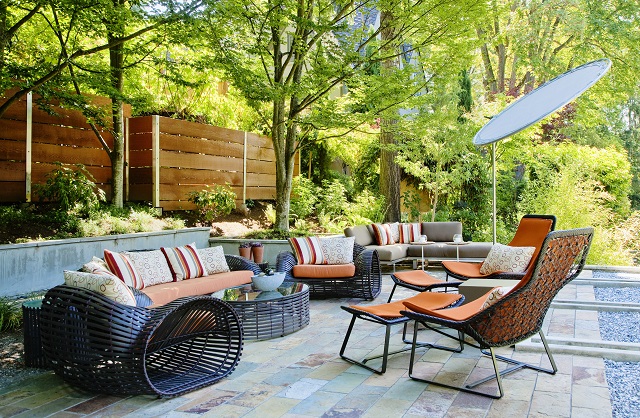 Outdoor furniture frames and upholstery must be durable and comfortable. The best materials for outdoor furniture are those that work well with the natural weather conditions of your region. While weather conditions may vary throughout the year, our guide helps you find the best material and fabric for your patio furniture, so you can enjoy the outdoors in style.
On This Page:
Factors to Consider for Outdoor Materials
Designed to entertain and decorate your home beautifully, outdoor furniture frames and upholstery must also withstand the elements. Through the seasons and a variety of weather conditions, the best material for outdoor furniture stays resistant and attractive. Depending on the most common weather conditions, these are the damages to prevent in your outdoor furniture and the best materials to prevent them:
Weather Conditions
Common Issues
Best Materials
Rain & Moisture

Resin wicker
Recycled plastic

Sun & Heat

Fading
Cracking
Heat retention

Aluminum
Resin wicker
Recycled plastic

Wind

Blowing away
Tipping over
The best wood furniture repair & restoration services near you can help maintain the durability, comfort, and style of your outdoor furniture.
Best Material for Outdoor Furniture
The best material for outdoor furniture depends on the area where you live. Regardless of the weather conditions of your local climate, you can find the best material for patio furniture that will ensure durability while giving your outdoor area a chic and elegant appearance.
Aluminum
With a contemporary look, aluminum is a lightweight and rust-resistant material that offers strength and protection against the elements. Aluminum outdoor furniture with a powder coat finish offers added protection and is among the best outdoor furniture for salt air.
Some of the benefits of aluminum furniture include:
Lightweight
Moisture resistant
Minimal maintenance
Easy to clean
The cost of powder coating ranges between $400 and $1,200. If your aluminum furniture is not powder coated, this is a good solution to ensure its durability.
Resin Wicker
For handsome outdoor décor that looks natural, resin wicker offers weather-resistance and durability. This synthetic fiber wraps around a metal frame to deliver a similar look to wicker with greater strength. What makes resin wicker one of the best materials for patio furniture:
Traditional look
Durability
UV resistance
Water resistance
For a more natural alternative to resin, wicker furniture is a beautiful option that can be used indoors and out. Find wicker repair near you and keep your furniture looking new throughout time.
Wood
Nothing says nature like wooden outdoor furniture. While shorea and teak furniture are among the strongest and most durable; pine, cedar, and fir also offer natural weather-resistance at a lower price. Why wood is some of the best material for outdoor furniture:
Timeless appeal
Withstands extreme temperature
Wind-resistant
If you prefer the elegance of custom-built outdoor furniture, wood is the best material to create these timeless pieces. The cost of building your own furniture ranges between $1,100 and $4,200.
Recycled Plastic
Colorful, stylish, and durable are the first qualities that come to mind when you think of recycled plastic outdoor furniture. This eco-friendly alternative is also the best outdoor furniture for salty air and does not fade. Other benefits of recycled plastic outdoor furniture:
No maintenance required
Won't rot or rust
Withstands extreme temperatures
Easy to clean
Wrought Iron
The elegance and strength of wrought iron outdoor furniture make it ideal for windy regions. However, this material can be vulnerable to the elements and not all wrought iron furniture is weather-resistant. Benefits of wrought iron outdoor furniture:
Heavy weight keeps it in place
Withstands sunlight
Best Fabric for Outdoor Furniture
Outdoor furniture fabric endures a good amount of exposure to the elements. Rain, wind, sunlight, and cold are only some of the weather conditions that can damage your patio furniture. With the best fabric for outdoor cushions, you can preserve the comfort and ensure the durability of your outdoor furniture.
Cotton Canvas
This heavy-duty fabric is inexpensive, hard-wearing, and fresh. It comes in a variety of colors and prints for you to choose the style that best matches your décor.
Duck Cloth
Similar to canvas but with a tighter weave, duck cloth is smoother than cotton canvas. It comes in a variety of weights, so you can use the type that works best for your weather.
Textilene Fabric
This woven polyester with PVC coating is waterproof and fade resistant. The downside is that it has an unnatural texture that is less comfortable than natural fibers.
Olefin Fiber
This synthetic fiber is also known as polyropylene. Because it is a plastic fabric, it withstands mold, heat, sun, and water better than natural fabric.
Vinyl
Durable and easy-to-clean, vinyl is a recyclable material that has covered outdoor cushions since the 1920s. It is best for cooler weather, as it can cause the skin to sweat and feels uncomfortable in higher temperatures.
FAQs
Is outdoor fabric stain resistant?
Vinyl and textilene are the most stain-resistant fabrics for outdoor cushions. They do not absorb liquid and are also moisture resistant.
How do you clean outdoor furniture cushion fabric?
Brush off the dirt and debris on a regular basis to keep your outdoor furniture cushion fabric cleaner for longer periods of time. Read the instructions on your pillows or clean the exterior with a damp cloth, soap, and water.
What is the best wood for outdoor furniture?
Teak is the most popular wood choice for outdoor furniture, due to its strength and warp resistance. It repels most water and has a high natural oil content for greatest durability. Though limited in commercial availability, shorea is stronger and more weather resistant than teak. It is also insect resistant and less expensive than teak. To ensure its sustainability, shorea is highly regulated.
Ready to start your
Patio Furniture Repair

?Find Pros
No Comments Yet