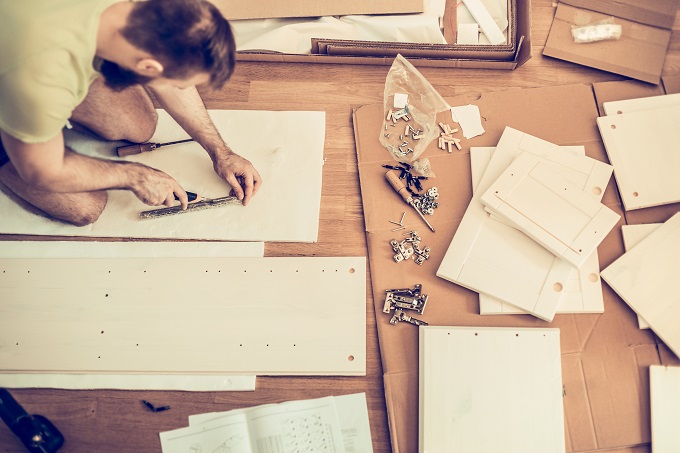 Assembling flat pack furniture can be like trying to solve a complicated jigsaw puzzle. It's often nerve-wracking to put together the pieces of your new Overstock or IKEA furniture, using the tool and instructions provided. One wrong move in assembly could ruin your newly purchased item; ultimately costing you more money that it would have been to purchase an assembled piece. Listed here are few tips that can help you build furniture easily, save your time and stress.
1. Prepare Your Working Area
Assemble the furniture in the same room where you plan for it to live. Moving after assembly could not only damage you home or new furniture, but can also be heavy and cause possible bodily harm. Create enough space by clearing out fragile items around the work area; you don't want to break other things while attempting to build a new item.
2. Unpack the Boxes
Open the package and make sure that all of the parts have been delivered without any damages. Be careful while using sharp objects to open the cardboard boxes. It's possible to scratch off the laminate or damage the furniture while unpacking. To create a flat surface to ensure the stability of the item on the floor, cut open and use the cardboard from the packaging. This can also help protect your floor from possible injury during furniture assembly.
3. Organize
After unpacking, identify the parts, group similar items together, and lay them out in an orderly manner. Flat packs come with a lot of small parts: nuts, bolts, screws, nails, knobs, washers, cams, cam bolts, caps, and more. Separate them in plastic bins or cups to avoid ruffling through a pile every time you look for an item. This can also help prevent the small pieces from rolling away and disappearing as you shuffle around the floor.
4. Find the Right Tools
Most ready-to-assemble furniture comes with the basic tools needed for assembly. But if your items are more complex, you might need to gather the necessary tools before beginning the project. Most basic furniture assembly requires a hammer, an adjustable wrench, a rubber mallet, allen wrenches, a set of flathead and philips-head screwdrivers, measuring tape, sandpaper, and a level. Power tools like electric screwdrivers and drills with interchangeable bits can make your work easier while building complicated items.
5. Don't Do It Alone
Most furniture assembly projects require at least two sets of hands, especially if pieces or heavy or if installation requires leveling onto a wall. Ask friends or family members for help, or enlist the help of a professional.
Ready to start your
Furniture Assembly

?Find Pros
6. Follow the Instructions
Flip through the manual pages and strictly adhere to the illustrated instructions as to how to build the furniture. You might want to go through the handbook more than once to get a clear picture of the process. Start building from the base and then move on to the details. If there are many similar items, build them simultaneously to avoid confusion.
7. Be Patient
Assembling furniture can be a mundane task. Some of the steps may not be very intuitive. Patience is required, as is the need to relax and take breaks. If you rush through, you are more likely to make mistakes.
8. Double Check
Follow the instructions closely and recheck from time to time to ensure that you are building it correctly. You don't want to redo the entire process because you missed a step. Your safety and the safety of your furniture is at stake.
9. Look for Guidance From Online Videos
Watch videos online to learn how to assemble the furniture. Most companies provide online videos and FAQ's on their website for customers. Many also have downloadable sets of directions in the event that you misplace your instructions.
10. Get Help From a Pro
If you don't want to waste your time and energy putting together a piece of furniture, you might want to consider hiring professional assemblers. They are more experienced and can handle the assembly for you properly and with ease.
Other Tips for Assembly:
Before going to the store, measure the dimensions of your room to avoid any surprises later. Look for items that best fit your space.
Don't panic if certain parts are missing from the package; most companies can provide replacements for missing and damaged parts of their items.
Ready to start your
Furniture Assembly

?Find Pros
No Comments Yet