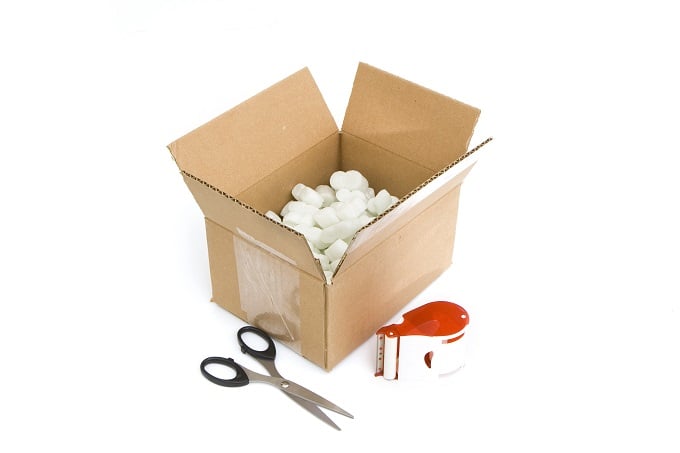 Moving into a new home can be hectic and tiresome. Professional packers and movers do a very effective job of safely and promptly packing and moving your belongings so you can focus on the many other tasks in involved in moving to a new location. Packers use quality packing materials to ensure the safety of your household items. Packing supplies form an integral part of a packer's arsenal in successfully wrapping and boxing your valuable belongings. If you plan to do the packing yourself, consider purchasing the essential packing items listed below.
Packing Tape
Packing tape is a staple item in a packer's toolbox. Every box, crate, padding, or wrapping needs to be sealed with tape. Box tape is essentially used for packing crates and boxes. Different sizes are available, ½", ¾" and 1" width tapes being the most common. Keep an eye out for combo packs at your local hardware store as they can be more affordable.
For packing and moving purposes, commercial grade or filament tape is used. The higher adhesive power of these tapes can help to seal heavy and corrugated cardboard boxes easily.
Crates & Boxes
Boxes and crates are the easiest way to pack and move your regular-sized belongings. Boxes of assorted sizes can be used to transport items of varying size and weight.
There are different types of crates and boxes that can be purchased for moving.
Cardboard boxes are a regular option and can be used to transport household items. You can get custom-sized boxes for specific items. They are cost-effective and durable enough for moving your smaller and lighter belongings.
Plywood boxes can be a sturdy alternative to regular cardboard boxes for packing heavier items that need more security.
Pallet crates are favorites among professionals due to their customizable features. Using crates for packing makes it easier for movers to lift and move the boxes with lifting equipment.
Plastic bins – They're strong and durable, can be stacked on top of one another, and contain handles for easy carrying.
Packing Peanuts
Another important material to add to your list is packing peanuts, or materials that can help ensure the safety of your belongings inside boxes or crates. They can be used to fill the empty spaces in boxes containing fragile items like glass or ceramic. You can buy them in bulk from a store or ask your professional packer to supply. Packing peanuts are available in a variety of materials.
Foam peanuts
Styrofoam peanuts
Polystyrene peanuts
These are optimally used when you are looking to pack smaller belongings in boxes where the peanuts can be used as cushioning. It also acts as a filler and prevents items from shifting within the crates.
Ready to start your
Packing Project

?Find Pros
Popcorn
This may come as a surprise to many. Regular popcorn can be used as a packing material in leui of peanuts or other soft packing materials. Cooked popcorn enclosed in plastic covers or packets, when placed within packing boxes & crates, can fill empty space and cushion your item during a move. Small boxes containing brittle items like light bulbs or glass cutlery can be stuffed with popcorn to ensure safety.
Styrofoam
The best option when it comes to packing electronics and large pieces of art is Styrofoam. It isn't an accident that when electronics are shipped to your home, they are protected by Styrofoam blocks and pads. Styrofoam can withstand shock, making it a perfect item when packing electronics. Additionally, Styrofoam can be used to create safety dividers inside a box where multiple fragile items are packed together.
Tip: Keep boxes and Styrofoam from packed electronics after purchase and installation. They come in handy when repacking the items for a move.
Bubble Wrap
For your most fragile items, bubble wrap is the best material to use for packing. It is a resourceful material that can be reused multiple times. You can choose to wrap it around your items and tape it down, or just stuff it into the insides of your box to protect your belongings.
It works best when used to protect photo frames, mirror and glasses, TVs, and monitors. You can also use it sparingly by covering pointed corners of certain sturdy items and covering the rest with newspaper.
Ready to start your
Packing Project

?Find Pros
2 Comments