May 21, 2016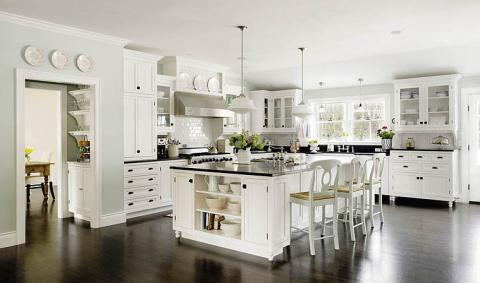 It's been a busy day for remodeling trends and stats, and the news is decidedly positive. The National Association of Homebuilders (NAHB) released their RMI (Remodelers Index) and the Harvard Joint Center released their LIRA (Leading Indicator for Remodeling). They both showed that more remodelers are seeing increases than decreases. The forward-looking Harvard index predicts 8 percent growth going forward, almost double the historical growth rate.
This is consistent with HomeAdvisor's findings. HomeAdvisor tracks about 10 million service requests annually, and we break down the data into dozens of categories. From our own research, we can further confirm that there is a shift going on toward long-deferred "major" renovation/remodeling projects. Requests for whole-kitchen, whole-bathroom or whole-house remodels are up sharply versus a year ago. Multi-room remodeling service requests are up 67 percent versus this time last year.
Nesting is Investing
Consumers are now leaning more toward an attitude that I describe as "nesting is investing". With home values moving upward, consumers have gained further confidence that their home is a good place to invest their money. While the upscale department stores and luxury retailers have been seen struggling lately, overall retail sales numbers have been respectable, propped up in part by strong results at home improvement stores like Home Depot and Lowe's. Some consumers clearly consider "nesting" more sensible than buying a new home, and they also see it as a smart investment. Also, with home values moving upward, consumers have gained further confidence that their home is a good place to invest their money.
Another factor: home prices are getting out of reach for many who would like to move to a different home. Some are finding that it makes more economic sense to stay put and invest where they are. Existing Home Sales data just came out today, and they showed that home sales (read: turnover) are sharply higher. That is consistent with the fact that the number-one fastest-growing type of service request coming through HomeAdvisor is for moving services, up 89.7 percent. Also growing rapidly is home inspection services, up 42.0 percent. Not coincidentally, both of these types of services are closely tied to "churn," or home turnover. In a "high-churn" state like Florida, the percentages are even more dramatic. Growth in "moving service" requests in Florida was 123.3% in the past year, higher than the 89.7% increase for North America as a whole.
The Effect of Mortgage Rates
When mortgage rates go higher in the next few years, I believe home improvement spending will increase. Why? I call it the "lock-in effect." People who managed to secure a mortgage with a fixed rate in the 3.5% range will be somewhat reticent to move once rates get near 5%. That move could add hundreds of dollars to the monthly payment, even for a lateral (same price) move. Some of those people will decide it's better to update or renovate the home they have rather than lose their low fixed rate.
It is also interesting to observe which types of services are in less demand than average. One of the slower-growing categories in the past year has been services related to hot tubs, spas, and saunas, a category that is definitely what I would call "discretionary." It's a "nice to have" rather than a "need" (for most of us). Interestingly, the hot tub category has been even weaker in Florida than in the U.S. and Canada as a whole. There is a fair amount of trepidation in the U.S. in front of the upcoming election, and that may be slowing the rate of growth in that kind of luxury item, as people try to put some money away in savings.
There is another driver of home improvement: the "catch-up" effect. For each of the past 3 years, there has been an exceptional increase in the demand for help with repairing or servicing appliances in many geographic markets. There was a great deal of "deferred maintenance" during the recession and for a few years after the recession officially ended, and now many homeowners are finally getting started addressing those items. People can justify the expenditure now that they know that they once again have significant equity in their homes.
No Comments Yet