Redesigning your bedroom? What better place to look for inspiration than from your favorite movies, directed by some of the most renowned filmmakers of our time? Each of the below directors is known for their visual style and celebrated for designing unforgettable spaces. If you want a unique bedroom inspired by the movies, these designs will give you some ideas to get started.

Peter Jackson
If it's a cozy bedroom you're after, look no further than a Peter Jackson-designed space. His adaptations of J.R.R Tolkien's Lord Of The Rings and The Hobbit brought the mythical Middle Earth to life on the big screen. Think soft lighting and plenty of wood. His use of earth tones brings a comfortable feel to his spaces. Be on the lookout for good second-hand rugs, and bring nature indoors with some plant life.
Tip: If you're looking to go a step further in creating a house like one from The Shire, consider making some structural changes to your house. Why not install a round doorway to your bedroom?

Guillermo Del Toro
If you're into Victorian architecture and bold use of color, this is the design for you. Del Toro's Hellboy and Pan's Labyrinth clearly demonstrate an eye for the esoteric. His bold use of red, yellow, and blue hues gives his work a distinctive otherworldly quality. This room is a place that you might share with ghosts, spirits, and monsters, but it will certainly be unique.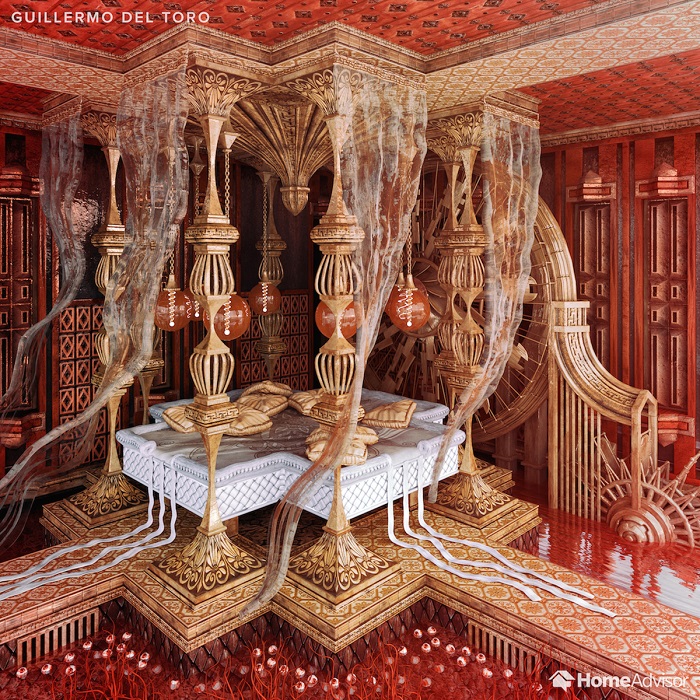 Tip: For the authentic Del Toro look, be on the lookout for old clocks and anything with gears, pulleys, and levers to decorate your room.

Sofia Coppola
If Sofia Coppola wasn't a successful movie director, she could easily be an interior designer. She is best known for the classic Lost In Translation, but it's her vivid Marie Antoinette that inspired this design. Her use of soft and natural lighting gives the rooms a dreamy look that is unmistakably her own. To achieve this look in your own space, choose pastel colors for everything from the furniture to the wallpaper and bedding.
Tip: Opt for warm white light bulbs in your fixtures and use mirrors to emphasize the natural light in the room.

Dario Argento
If you love German Expressionism and horror movies, this room could be perfect for you. His movies thrill and terrify in equal measure—and none more so than Suspiria. It's all about lighting in Argento's world; think stark contrasts between light and shadow. Use blue, red, and yellow artificial lights to play with perception.
Tip: Bring in the Art Nouveau style through the use of unique chairs, cabinets, mirrors, and lighting.

Hayao Miyazaki
Another director whose films are instantly recognizable is Hayao Miyazaki. His surreal and fantastic worlds have been thrilling children and adults alike since he co-founded Studio Ghibli in 1985. Everything and anything can come to life in a Miyazaki movie, like in Spirited Away. This is probably the most challenging design to emulate but by adding dreamy wallpaper and nature print curtains, you can create the perfect place for weird and wonderful creatures to hang out.
Tip: To take it a step further, re-decorate with a full-wall mural to achieve this look. Try adding a sky scene, with a flying wooden boat among the clouds.

Tim Burton
Tim Burton is known for his love of gothic imagery. Every one of his films has his hallmark dark look. His nightmarish fairy tales The Nightmare Before Christmas and Corpse Bride perfectly demonstrate his unique visual style. Think of exaggerated, cartoonish ways to emphasize the items in your room. It's always night-time in Burton's world, so black and dark blue curtains and candles are essential.
Tip: Furnish your space with dressers, night tables, and accent pillows that have stripes and checkered patters.

Wes Anderson
If you have an esoteric eye for things, then a Wes Anderson-inspired bedroom is the perfect choice for you. It'll be like moving into The Royal Tenenbaum's house or staying at The Grand Budapest Hotel. The key element in this style is symmetry. Pay attention to every detail—nothing can be out of place.
Tip: Hunt for some old-fashioned furniture and antiques at thrift stores to bring life to the space. An old-school telephone would be a great start.
There is no need to stick to the status quo when it comes to interior design. These designs show what can happen when you look outside the box for inspiration.
Add this graphic to your site:
Click the text below.
Copy the selected text.
Paste the code on your website.
1 Comments