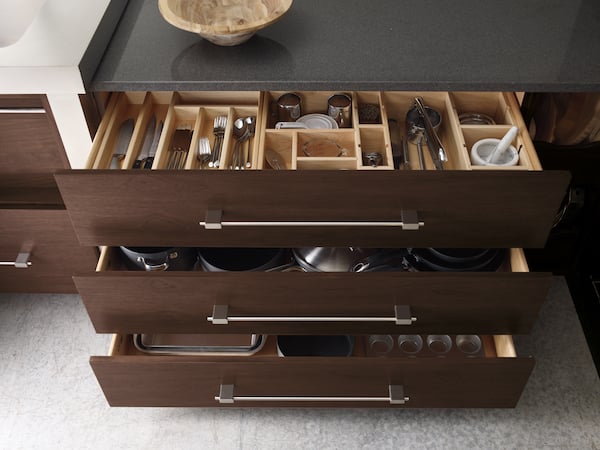 Inadequate storage is a common kitchen problem. Although you couldn't have your dream kitchen, it doesn't mean you can't find a way to fit your entire cooking arsenal. When thinking about organizing your kitchen, focus on creating plenty of storage.
Kitchen Storage Ideas
Kitchen Carts: This is a small, portable kitchen island that allows you to store more infrequently used items. These carts are especially useful for storing large items, like deluxe mixers. When you need to cook for large parties, you can also roll it out to more efficiently reach your cooking supplies. Another kind of kitchen cart is the microwave cart to move your microwave off your counter, reclaiming precious space for both appearance and cooking efficiency.
Kitchen Hutch: Fine dinnerware is meant to be displayed not stored. If you don't have space in your kitchen, you can put the hutch in your dining room or even an adjoining entryway or corridor. Like any quality piece of furniture, a kitchen hutch isn't cheap, but it will help with your kitchen storage and add to your décor.
Additional Kitchen Cabinets: No matter how much reorganizing you do, you may simply not have enough storage space in a smaller kitchen. If this is the case, it's time to add more storage. If your cabinets don't go all the way up to the ceiling, there's your additional storage space waiting to be created. For odd spaces, you may need to hire a cabinet professional to build custom cabinets. To get that last foot or so of kitchen storage, you might also need to replace your cabinets, which can cost between $4,727 and $7,077, depending on square footage. Even this small amount of extra space can go a long way in stowing your kitchen items.
Ready to start your
kitchen storage

?Find Pros
Opening Your Kitchen Space
When kitchen items aren't crammed into a few cabinets, kitchen storage can add to your décor. Open kitchen shelving can display spices, sugar and flour jars and other traditional kitchen items. Wine racks, knife racks, fruit bowls and other accents can all be proudly arranged to showcase your kitchen and cooking skills. The first priority of kitchen storage is to have a place to stow your items, but the best-designed kitchens always use storage as its own decorative element.
No Comments Yet