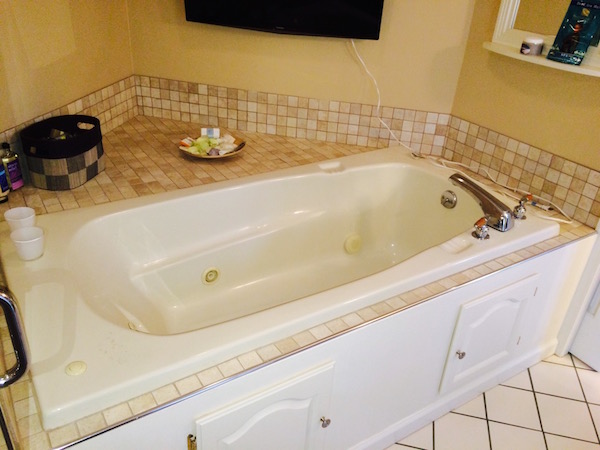 After many years of use, an old bathtub can become cracked or chipped. Daily wear and the buildup of corrosive materials can weaken a bathtub and lead to disrepair. Shower door removal or shoddy drilling can also create unsightly holes that should be fixed.
Before your bathtub gets out of hand, you should call a tub professional to refinish your bathtub. Whenever possible you should look into having your bathtub repaired. No matter how bad your bathtub looks, it may be easier to repair than you think. An average bathtub repair shouldn't cost more than a couple hundred dollars, with refinishing coming in around $570, while replacing your bathtub will cost about $4,000.
Fiberglass Inlay
For most bathtub repairs, a fiberglass inlay is the preferred repair technique. In principle, a fiberglass inlay is really nothing more than a patch for your bathtub. Glues and adhesives can be used to bond the fiberglass to your bathtub, but a chemical fusion will create a permanent bond that essentially makes the patch and your bathtub one solid surface. Expert measurements create a seamless repair. When the bathtub is then refinished, the end result is a bathtub that is as good as new.
After your bathtub has been structurally repaired, it will need to be resurfaced and refinished. A quality refinishing product is probably at least as important as the fiberglass inlay itself. Not only will it ensure many years of reliability for the repaired area, it will create a stain and acid resistance that, in many cases, exceeds the original finish of the tub. The refinishing process is what truly makes your bathtub new again. The resurfacing and refinishing process is also where your bathtub's color can be restored or changed to better match your bathroom's décor. Just make sure your refinishing agent maintains a stand-sure quality, the industry's term for a bathtub that allows safe footing despite the shampoos and lotions that run onto the floor.
Re-grouting and Re-caulking
More often than not, when your bathtub repair is complete, you'll realize you also need to clean your bathroom tile and re-grout and/or re-caulk. You may not have thought your tiling looked too bad, but once your bathtub is restored to like-new status, the dirt, mold and grime of your tiling is going to be substantially more noticeable. When you begin to lose your grouting or caulking seal, water can get behind your tiling and allow mold to grow. Tile repair can be more expensive than your bathtub repair. You should be re-grouting and re-caulking your bathroom every year or so. It's not a difficult project, but once mold begins to eat at your walls you may need to hire a service professional. If you haven't re-grouted or re-caulked lately, you should talk to your bathtub repair professional and ask what the additional cost would be for re-grouting and re-caulking your tiling.
3 Comments