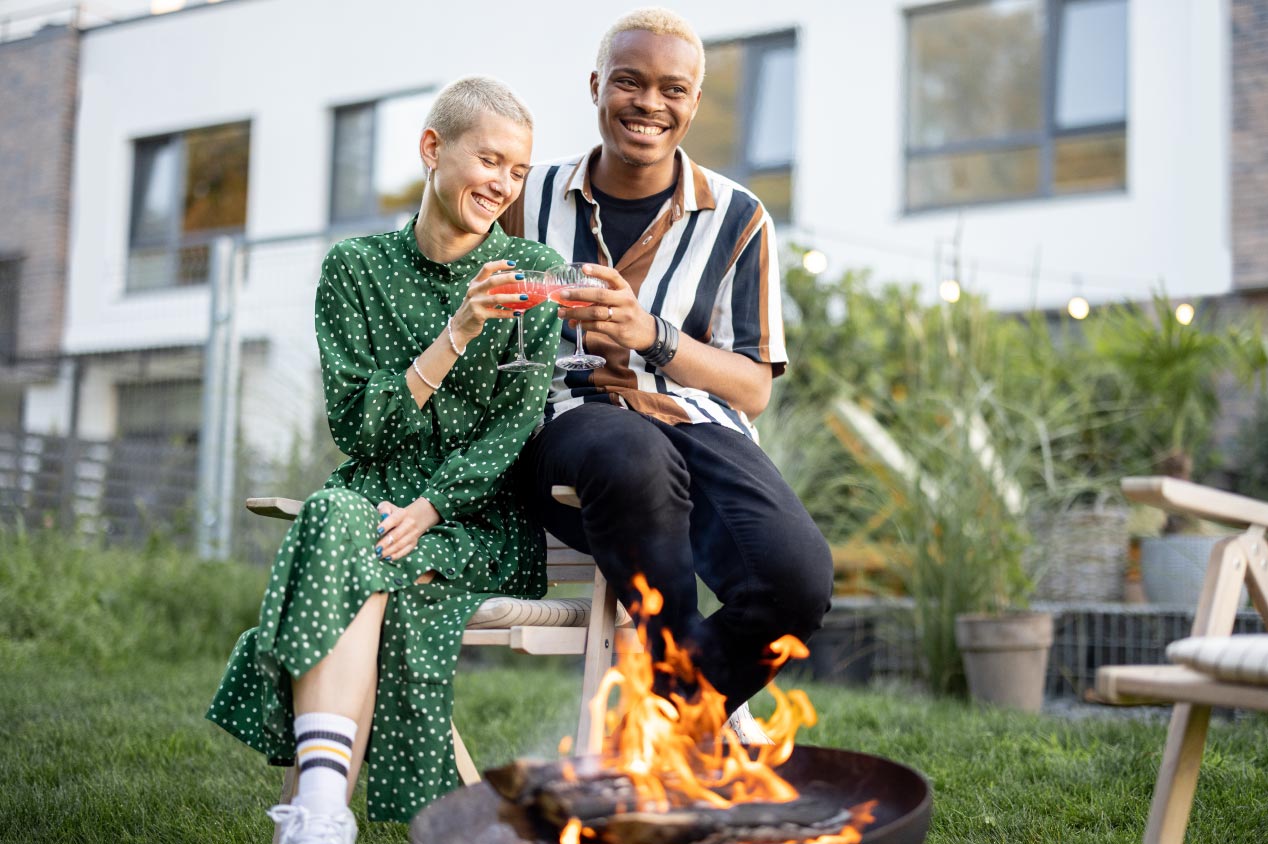 Photo: rh2010 / Adobe Stock
An outdoor firepit is a great way to upgrade your patio to enjoy time outdoors without a disruptive overhaul. Wood and gas firepits are both excellent choices, and each comes with its advantages and drawbacks. Gas firepits are perfect for those who want something easy to maintain without a smoky smell, while wood firepits are a more rustic choice that's a little less costly to install.
On This Page:
What's the Difference Between Wood and Gas Firepits?
The difference between wood and gas firepits is the fuel source. Wood firepits are fueled by dry wood, usually logs. Gas firepits are fueled by liquid propane or natural gas.
In both cases, storage is necessary for the fuel source. For wood firepits, you'll need a place to store good-quality wood where it'll stay dry. Gas firepits, whether powered by propane or natural gas, require a tank of fuel that needs to be located somewhere on the property.
Wood vs. Gas Firepits: Which Is Better?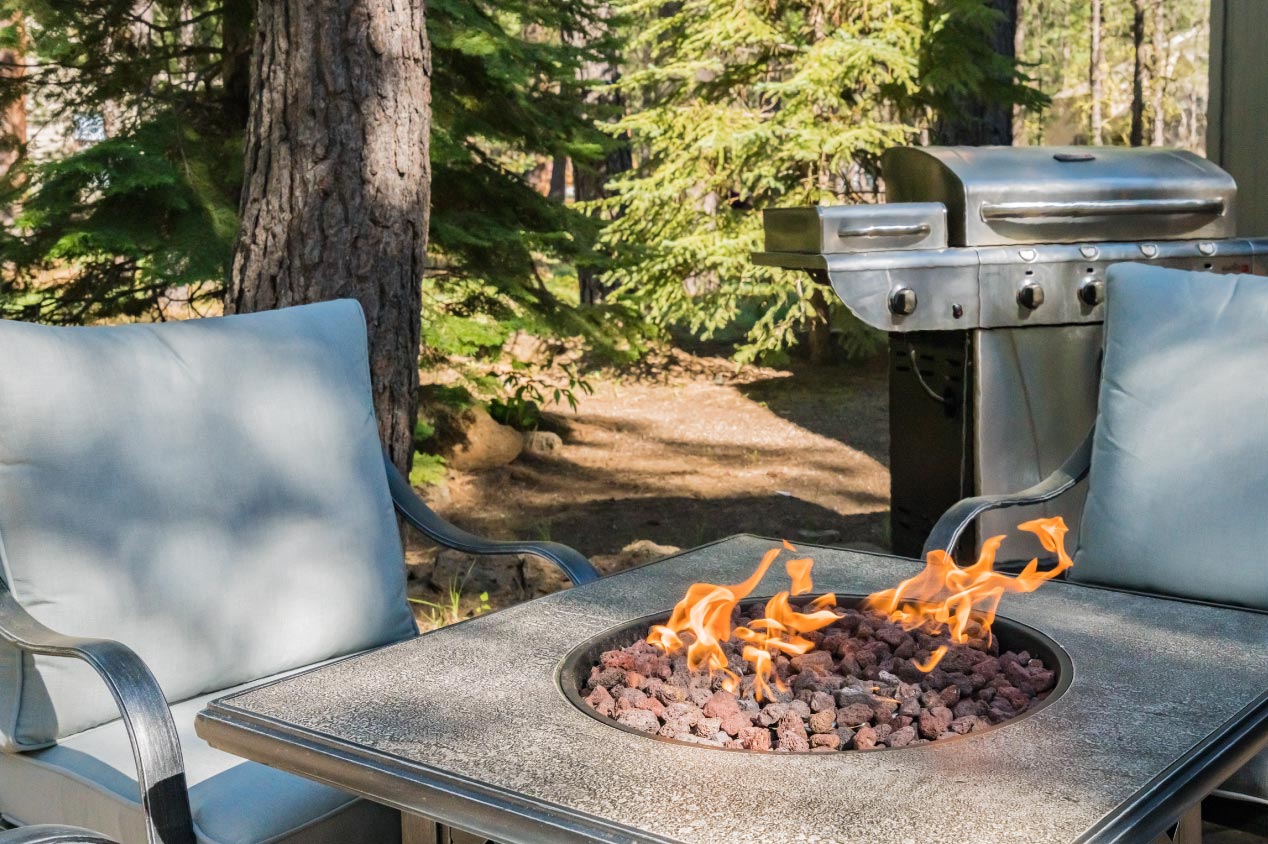 Photo: The Hidden Touch / Adobe Stock
When deciding between a gas or wood firepit, it's just a matter of preference. If you enjoy a crackling fire with a smoky aroma, a wood firepit might be a better fit. Gas firepits, however, are easier to maintain and produce no smell.
Appearance
Best-Looking: Tie
The look of an outdoor firepit depends more on the materials used to build the pit than the fuel used to make the fire. Depending on the appearance you want, you can choose from several different stone or brick materials, which range between $110 to $600.
Material
Properties
Per Project Price
Stone/field stone

Comes in various shapes and colors
Best for wood

$300
Fire brick

Can be used with wood or gas
Holds heat after fire has died
Attractive appearance

$280
Concrete block

Inexpensive
Large
Used for gas or wood

$110
Paving stones

Comes in various sizes, shapes, and colors
Good for wood or gas

$500
Cost
Most Affordable: Wood Firepit
Both gas and wood firepits vary in installation cost based on the materials and preferred look. The cost also depends on whether you choose a prefabricated kit or a custom-built pit.
Wood Firepit
Cost to install a wood firepit: $500–$5,000
Gas Firepit
Cost to install a gas firepit: $900–$7,000
Factors that influence cost:
Pit size
Materials
Custom vs. prefab
Environmental Friendliness
Greener Choice: Gas Firepit
Gas firepits produce a clean burn, whereas wood firepits release smoke into the atmosphere. The smoke and particles from the wood can cause breathing problems, especially for those with asthma and other respiratory afflictions. Though wood is a renewable resource, that alone isn't enough to offset the negative effects of smoke emission into the atmosphere.
Installation/DIY
Professional Installation: Gas Firepit
While installing gas firepits and wood ones can be DIY projects, firepit safety is an issue with both. You need to run gas lines to fuel a gas firepit, which requires installation by a local gas appliance professional. Some homeowners start with a portable gas system, then transition to a more permanent solution when they decide on a location.
Wood firepits are easier to DIY since they just require the construction of the physical pit and collecting wood to fuel it. They also need to be placed a certain distance from the home, according to local ordinances.
Maintenance
Easier to Maintain: Gas Firepit
Gas firepits require little to no regular maintenance and are clean-burning, whereas wood firepits take quite a bit more effort. Wood firepits collect soot, ash, and—in some cases—creosote, a tar that can leak chemicals into the air. If you don't clean out wood firepits, they pose a fire hazard. Wipe up gas firepits when you're finished using them and cover them so they stay clean until the next use.
Return on Investment
Highest ROI: Gas Firepit
According to the National Association of Realtors, a firepit can have up to a 67% return on investment (ROI). Gas firepits tend to have a higher ROI because they're easier to maintain and more environmentally friendly. Wood firepits are more appealing to some buyers because of their aesthetic value, so the ROI depends on the buyer.
Wood vs. Gas Firepits: Which Is Best for Your Home?
Gas and wood firepits bring an added spark to an outdoor space. They both add value to your home, and the choice between them boils down to preference. If you want a beautiful space where you can enjoy the crackling sound and smoky aroma of a natural fire while roasting marshmallows with your family, wood is the way to go. If you're looking for a firepit that's beautiful, easy to maintain, and environmentally friendly, gas is a better choice.
Find a Fireplace Pro Near You
No Comments Yet