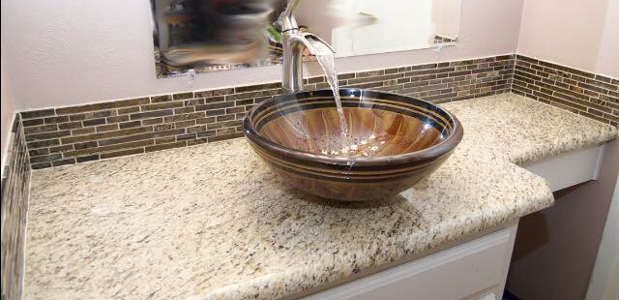 Vanity sinks are an integral part of your bathroom vanity. Whether your sink is glass, porcelain, metal, or stone, the issue is usually not so much about cost or durability, but rather what's going to look best with your bathroom decor. You're not going to put a metal sink in your traditional or country bathroom and you're not likely to put to put a ceramic sink in your contemporary style bathroom.
The reason why cost usually isn't the more important consideration is simply the overlap for most materials. You can find a low end sink for under a $100 or you can spend over a $1,000 for a customized, luxury bathroom vanity sink no matter which material you choose. Durability can be an issue, but isn't nearly as important in the bathroom as it is in the kitchen, simply because bathroom sinks tend to see less use and abuse.
Matching Your Vanity Sink, Mirror, and Cabinet
Thus, the driving force in choosing a bathroom vanity sink is usually the decorating theme, most directly matching it to the adjacent mirror and cabinet. Country, traditional, and contemporary are the three most popular decorating styles for bathrooms, but you shouldn't feel like you have to choose any strict rules. Do what makes sense and looks good; avoid what doesn't.
For example, chances are you don't want to choose a stainless steel bathroom vanity sink to go with an ornate, hand-carved wood cabinet and mirror frame. On the other hand, it's not difficult to create a synergy between multiple decorating styles. Say you want to combine elements of contemporary and country bathrooms; maybe what you're looking for is a copper bathroom vanity sink. The glass vessel sink is probably the latest installation to prove itself more than a fanciful trend. These above-counter sinks are great for contemporary bathrooms, but can also be customized by artisans to fit in with almost any style.
Ready to start your
Sink Installation

?Find Pros
Generating Ideas for Your Bathroom Vanity
A great place to look for ideas for bathroom decorating styles and vanities in particular is a nice public restaurant. Since most decorating trends originate in upscale establishments, commonly restaurants, this is a great way to stay ahead of trends. Many companies and manufacturers also have showrooms, both online and in their stores. If you're considering an entire bathroom remodel, there are also conventions and fairs that you can attend. These are great for generating ideas, but you should realize individual contractors are usually busy during these events are unlikely to have the time to discuss any specific plans or contracts in detail.
Beyond the Vanity of the Decorative
Naturally, there are more considerations in choosing your bathroom vanity sink than just decoration. Cost and durability may play a role. The other important factor is more likely to involve bathroom vanity design. One of the things that make bathroom vanities so great is the number of different functions they serve. Besides the sink, they create storage with their cabinetry and a mirror for inherent bathroom functionality. Space is always critical in bathroom design, so you'll want to find a vanity setup that gives you the most use for the space it takes up. Taking the time to search for the right vanity design, along with its decorative style, can pay great dividends for your bathroom remodel.
No Comments Yet