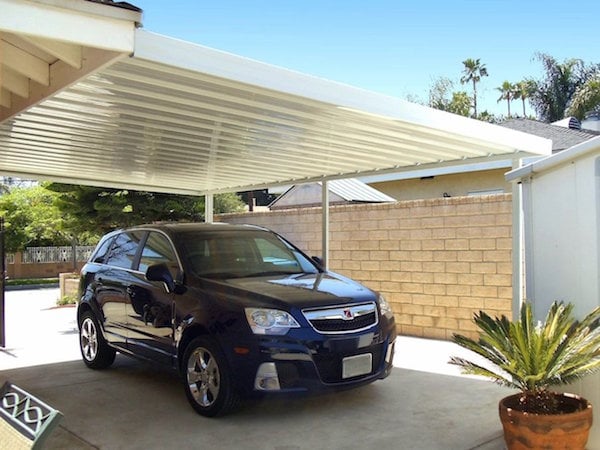 If you haven't said it yourself, you've probably heard somebody talk about it. The summer becomes a dreaded time of year when seatbelts get so hot they can hardly be touched. The winter is a disastrous morning waiting to happen when, already late for work, you have to spend ten minutes scraping the ice off your car. This isn't about the seasons. It's about not having proper car storage. A metal carport will change that. Just because you don't have a garage, doesn't mean you have to leave your vehicle to Mother Nature's whim.
Steel Carports
While carports are available in vinyl, wood, and aluminum, steel carports are the most popular and usually the most sensible. Steel is the cheapest and most durable option. It's termite-proof and is generally unattractive to all pests. Steel carports are fire resistant and require virtually no maintenance.
Some homeowners choose a wood carport installation simply because it's more attractive. This becomes a bigger consideration if the carport is located near your house and the steel clashes with your home's appearance. On the other hand, if you're ready to invest in a wood carport and have the space near your house, you might want to consider an entire garage addition. Vinyl or aluminum can be a viable compromise between wood and steel for price, durability, and curb appeal.
Metal Carport Installation
Not only is a metal carport considerably cheaper to install than a garage, in many places it is considered an outbuilding and doesn't require building permits. While installation is also easier than a garage addition, it still requires certain precautions. Local wind conditions and annual snow loads will affect the adequate building support needed. You must also ensure that you're not cutting into any utility lines when digging the foundation posts. Although you may not need a building permit, you should still check to make sure. There may be different regulations depending on whether your carport is free-standing or attached to your home.
Alternative Uses
Metal carports aren't just for cars. They are often custom-built to accommodate boats or recreational vehicles. If you don't have a screened in porch, they can act as a covered recreational area, where you can sit down with friends and play a game of cards. For large outdoor gatherings, you can create a food and beverage area and leave your patio entirely for seating.
Carport Plan and Design
You'll want to install a carport that meets your needs and future plans. Some homeowners just want a roof to shelter your vehicle from the elements. A cheaper, more versatile portable carport is probably the best idea for your carport plans. If you like the idea of having a garage but aren't sure you're ready for the extra investment, a fixed carport can act as a stepping stone for a later garage installation. A solid, fixed carport needs only end walls to transform it into a full garage.
1 Comments