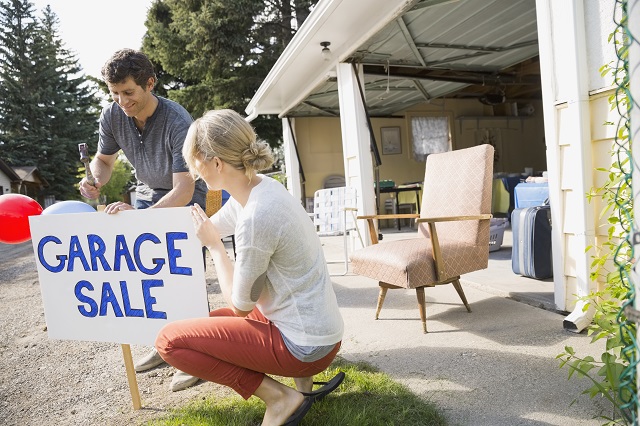 I know the feeling. You look around your home and wonder how did you accumulate all this stuff? Between the kids' old toys, old clothes that you don't use (or are out of style) and the items you thought were great to have (shouldn't watch infomercials at 2 in the morning) but you never use. What are you going to do with all these objects? Have a garage sale!
A garage sale can be a great way to eliminate items that you don't need, clean out your home, and even put a few bucks in your pocket. But to an inexperienced homeowner, garage sales can be a huge task! So, how and where do you start?
There are several steps involved in having a successful garage sale. We'll break the down quickly here:
Step 1: Sort Treasure from Trash While Pricing
First is finding the items that you plan on selling or getting rid of. A general rule of thumb is that if you think you should throw an object away, it might not be a good candidate for your garage sale. But, in case you don't have an instinct for what will sell, we've put together lists of items to toss, stuff to price down, and things to showcase.
Here are examples of things that likely won't sell:
Stained or ripped fabric goods
Broken or cracked glassware
Marked or damaged toys
There are some damaged or repairable items someone may still want to buy, so include consider including these in your sale:
old record players
vintage video game consoles
typewriters and office utensils
inefficient home appliances
worn-in or dinged-up furniture
lightly worn clothing
slightly damaged, high-quality or brand-name items
Consider pricing these items a little under what you would for the same thing in great shape. This might scare off buyers who aren't willing to negotiate their own price, so keep an eye on these items and let people who pick them up know that the price is flexible.
Not sure if something in your pile qualifies? Do a quick search on Amazon, eBay or specialty consignment stores or resale sites to see if there's a market for them and what they're worth.
Items that you can sell (at a higher price) include any good or nearly-new condition items such as:
Trading Cards
Sporting Equipment

Golf clubs (especially full sets)
Tennis rackets and nets
Baseball bats and gloves
Signed or recreational balls
Fishing rods and tackles
Boats, boards and paddles
Skis, snowboards and sleds
Bikes, scooters, skateboards and roller blades

Toys & Games

Cornhole
Crocket sets
Board games
Puzzles
Pieces-to-build-with sets
Dolls and stuffed animals

Electronics (newer the better)

mobile phones
TVs
Movies (Disney, classic and popular titles are likely to sell first)
computers
music players
video games and consoles
CDs

Wedding or Event Decorations

Aisle runners and pew décor
Center pieces, cake toppers
Faux flowers and LED candles
Tablecloths, cutlery, etc.

Senior Accessories

Walkers, canes and wheelchairs
Shower chairs or bathroom railing
Digital magnifiers

Furniture

Beds and dressers
Dining tables, nightstands and side tables
Desks and bureaus
Shelves, china cabinets and closet organizers
Couches, chairs, and stools
Swings, benches
Patio furniture
Playsets and jungle gyms

Unique Home Goods

Wall décor
Mugs
Vases
Cannisters
Salt and pepper shakers
Magnets
Lamps and lights

Clothing & Accessories (in good condition)

Children's clothes
Men's and Women's clothing
Jeans
Leather Jackets
Black dresses
Unique T-shirts and hoodies
Shoes
Purses & bags
Costume Jewelry

Books
Musical Instruments
Tools (both manual and motorized)
Step 2: Pick the Right Time
Garage sale shoppers like to increase their odds of finding things they actually want or need by checking out multiple garage sales at once. So, consider organizing or participating in your neighborhoods annual garage sale. Even partnering up with just one or two neighbors can increase your odds of selling more items.
You may want to consider what other events are happening in your area. A sure way to lose potential customers is by hosting your sale on holidays or the same weekend as local graduations, proms, homecoming, open houses, and other popular local events.
Step 3: Promote Your Garage Sale
The next step is promoting the event. There are a number of ways that you can promote the sale that won't cost anything. It's best to combine local signage, online, and newspaper promotion if you are selling items to a variety of potential buyers.
Make a poster or sign in the neighborhood and in front of your house is a great way to get attention for the event. This is a great DIY project if you have paper and paint or markers. If you don't have a steady hand, consider buying or printing a "GARAGE SALE" poster.
Advertise online. Facebook posts, communities and sales are a fantastic way to get the word out—and even sell any leftover goods.
Buy a newspaper listing. Many communities have event listings in their newspaper. This might cost a little money, but if you're selling clothes and equipment to older demographics, this is an appropriate way to let them know about your sale.
No matter where or how you promote your sale, be sure you include who, what, and where. A brief description of the event with important facts can help. Let people know what kinds of items you'll sell and highlight items that will draw people to your shop.
Step 4: Strategically Organize and Display Your Items
Consider sorting children's clothing by age (the way they do in stores) to make it easy for parents to find the right fit for their little ones. Display children's goods to be clearly visible from the curb. Families on a budget will appreciate a good sale where they can pick up clothes that their kids can where now or grow into.
Label items with their appropriate size if it has been removed. If you have any items with a unique story (like a signed glove, autographed book, or trinket from a trip to Asia), consider writing it on a note card or placing the item near where you or your family will sit, so that you can easily sell interested shoppers.
Put your best foot forward by placing basic items (like leather jackets or functional storage containers), good-quality furniture, and well-known titles and artists facing the road or entrance to draw more attention and buyers into your sale.
Step 5: Get Rid of What's Left
While all these tips will help you attract and sell what's in your driveway, very few garage sales completely sell out. If any of your items don't sell, you can donate them to places like Goodwill or have them removed by services like:
This way you don't have to deal with bringing them back inside or hauling them to the dumpster.
We hope this information helps you plan and execute your garage sale. Good luck!
No Comments Yet