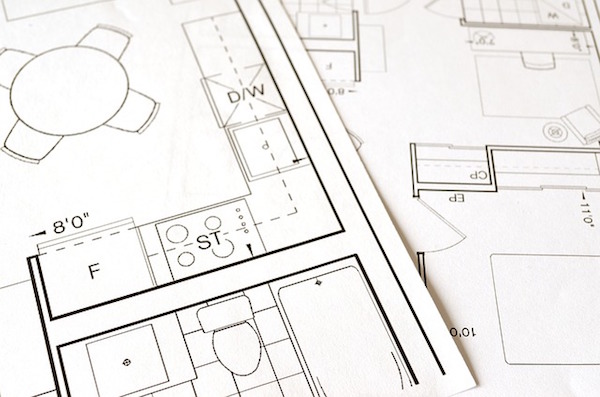 As a blanket term, drafting refers to the process of drawing the design for anything from a toy to a skyscraper to an airplane. In the construction world, drafting is the term used to describe the act of drawing the design for a building or structure. Though a draftsperson may not design the building or structure him or herself, they are responsible for making the physical plans of the design that is described by an architect of engineer.
Drafters make drawings and plans to specify dimensions, materials, and processes used in the making of a final product. These drawings are guidelines for the workers who will actually do the building. A draftsperson can also make drawings from blueprints, engineering sketches, photos, and other sources, which show how parts and other objects work, their relation to one another, and how they will be put together.
Architectural Drafting
Drafting work has many specialties, each with its own set of knowledge and skills applying to different fields. Many draftsmen might be used on a single project, or even on a single aspect of a project. Working together with each other and architectural and engineering teams, the draftsmen create the plans that will determine the final look and function of the structure. The following types of drafting are often employed in both residential and commercial construction.
Architectural drafting is a discipline that deals with the structural, functional, and decorative features of a structure or building. They may specialize in residential, industrial, commercial, or public buildings. An architectural draftsperson may also specialize not in a particular form of building, but in a particular building material such as concrete or masonry. Though the work of civil, electrical, and pipeline draftsmen may have a bearing on how a house is built or where structures can be erected, for residential construction, architectural draftsmen will most likely be the only kind of draftsperson you'll need.
Hiring a Draftsperson Instead of an Architect
Most places do not require hiring an architect or engineer for building a single family residence. Because of this, you may be able to build a new home without hiring one of these more expensive professionals and simply have your blueprints and plans created by a draftsman.

If you want to create a custom home that is unlike anything you've seen before, you might be better off hiring an architect, but a draftsperson will be able to do many of the same things that an architect would provide at a lower cost. Architectural drafting can use existing house plans (these can often be purchased relatively inexpensively from magazines or online) and customize the space to your specifications. A draftsperson may even be able to look at an existing structure and create a house plan from it.
Computer aided drafting and design (CADD) software that is used in professional drafting is now common enough that some prospective homeowners with a bit of construction knowledge have used it to create their own house plans. CADD programs do make drafting more accessible and allow for incredible precision, but getting the full benefits of this software takes intensive training. Making a basic design might be doable with a little practice, but to see the best results, the program will need to be used by someone with experience.
No Comments Yet