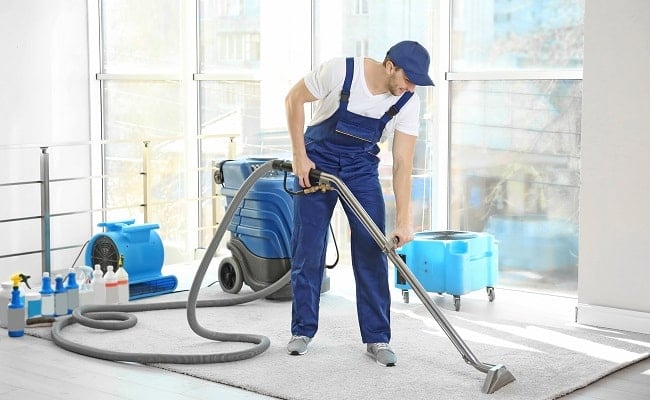 Keeping your home floors clean is a necessary part of maintaining your home's appearance. It requires diligence, especially in areas with a lot of foot traffic. Carpets are notoriously difficult to keep clean, but hardwood and laminate flooring must also be maintained to make sure your floors are looking their best. Investing in floor cleaners and equipment will reduce the time and energy you need to spend cleaning and, in general, result in cleaner floors.
Floor Steam Cleaners
The most difficult type of floor to maintain is carpet. Many floor cleaners are specifically designed to clean carpet for this very reason. Floor steam cleaners can remove the typical dirt and grime that gets tracked into your carpet fibers. The process isn't too difficult but it's more involved than would be practical for part of your weekly cleaning chores. Most homeowners who know this try to keep dirt off as much as possible, vacuum weekly or several times a month, and only occasionally break out the steam cleaner. If this is your situation, you might not even want to purchase your own steam cleaner and, instead, hire professional carpet cleaners to come in twice a year.
On the other hand, while floor steam cleaners are most often used for carpets, they can be used for other types of flooring as well. Investing in a high-powered, adjustable model will allow you to clean, not only your carpets, but can even get the oil stains out of your garage floor. The major disadvantage of floor steam cleaners is that they require deft handling. Improper use or employing a machine that has fallen into disrepair can damage your floors. Your floors will also have to be protected as they dry after the cleaning, although most dry after 2-6 hours.
Hardwood and Laminate
Hardwood and laminate floors are not only classic, elegant installations, they're also the easiest to maintain and clean. The first, big step you can do is simply to sweep or vacuum the floor regularly – although if you're vacuuming, use a soft brush extension. There are expensive floor cleaners out there, but vinegar and water can work just as well on laminate flooring. Whatever you use, try the cleaning solution on a small, inconspicuous area the first time before proceeding to the rest of the floor. If you're in doubt, the flooring manufacturer is usually the best source of advice. If they try to sell you an expensive cleaning product, however, watch out for a scam. These cleaning products are often unnecessary.
Hardwood floors usually require nothing more than water, unless your hardwood has been stained. The biggest danger with hardwood flooring is moisture damage, so use the water or cleaning solution as sparingly as possible when cleaning your floor.
Ready to start your
Cleaning Project

?Find Pros
The First Step of Floor Cleaning is Choosing Your Floor
One of the most common mistakes in home improvement is becoming obsessed with the look of a new home improvement installation. As infatuated as you might be with your new home or home remodel, the ability to maintain that look is probably more important in the long run. Pick a floor that you can afford, but also one you can afford to maintain. This may mean actually splurging on your initial floor installation, but can be worth it in the long run. Carpet is a cheap floor covering, but your floors may have to be re-carpeted several times over in the same lifespan as a hardwood or laminate floor. In fact, it may be worth it to take out a small homeowner's loan to ensure a floor that won't require further financial investments down the road.
No Comments Yet