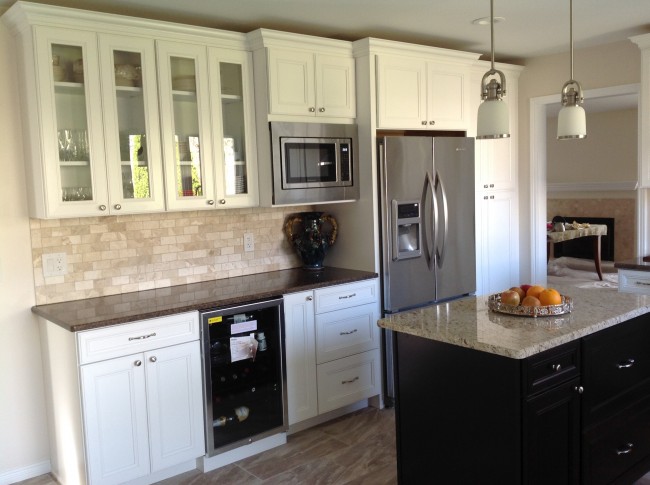 Where a traditional fridge is perfect for storing fresh and frozen food in the kitchen, an undercounter refrigerator is more at home in other areas of the house. These units are designed for use in living rooms, recreation rooms, and even patios or decks. Having the convenience of an undercounter refrigerator that is close by is perfect for those who enjoy entertaining or for anyone who needs some serious, specific, and temperature-controlled storage space.
Undercounter Refrigerator Uses
Depending on the model you purchase, an undercounter refrigerator can handle some or all of the tasks a conventional fridge performs. In some cases, they can do even more! Their unobtrusive designs let them go where standard models cannot.
While you can certainly put food in them, an undercounter fridge is truly a star when it comes to storing beverages. Many models can be found that are specifically designed for wine storage. They can even come with separate compartments to keep reds, whites, and champagnes each at their optimal temperature. Since they are designed for that specific purpose, these units will assure that your wine is always ready to serve. Those who buy and store a lot of wine will be delighted at the space they save in their kitchen refrigerator.
Wine isn't the only beverage out there. Some undercounter refrigerators are designed more for entertaining with cocktails. They will keep bottles and glasses cool, but their most impressive attribute is the super capacity ice-maker. You'll never have to run out for ice or wait for water to freeze again. They make a perfect addition for summertime evenings with friends.
Mini Fridge vs Undercounter Fridge
The average mini fridge is good for storing very small amounts of whatever you wish to put in it. They are a cost-effective choice for any room in the house. Undercounter refrigerators are significantly more expensive than most mini fridges. The difference in price is easy to justify when you compare the two side-by-side.
Undercounter units are serious pieces of machinery. They are designed to do a particular job, and they will do that job exceptionally well and for a long period of time. The craftsmanship and performance of these appliances are far superior to those of mini fridges. They have more capacity (sometimes as much as three times more). They are also better looking, so much so that they will often enhance the look of the room they are in.
When deciding which is better for you, the large price difference is the first thing to consider. After that, comes how the unit will be used. A mini fridge can do an excellent job if you just want to keep a few drinks cold, as demonstrated by every dorm room in the country. An undercounter refrigerator, on the other hand, is more likely to be found in a world class kitchen than in a college apartment. They are much less portable than a mini fridge, and sometimes are permanently installed in place. These are professional grade machines used for specific purposes. If that's not the kind of appliance you need, it is a lot less expensive to go for the mini.

Ready to start your
Undercounter fridge

?Find Pros
No Comments Yet