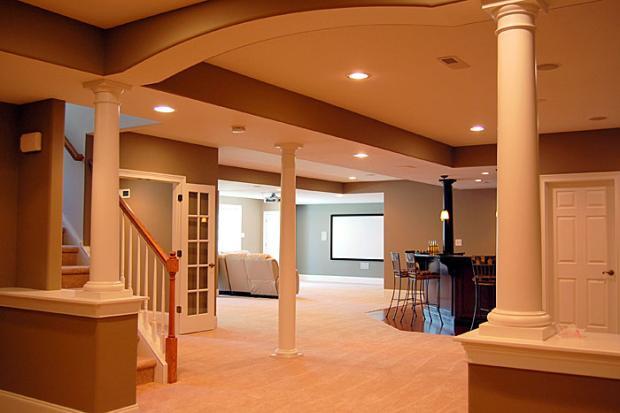 While any major remodeling project implies making a significant investment in your home, few areas create more potential for both problems and opportunities like a basement. For some homes, a finished basement can nearly double the livable space for your household, but the presence of moisture and inadequate insulation and ventilation can make for a grueling renovation process. Hiring a quality, knowledgeable contractor is crucial for a successful basement remodel, but so is deciding how to control your basement renovation cost. More than other remodeling projects, the cost of your new basement will be on the subcontractors and construction materials needed to make your basement ready for amenities and furnishings.
Finished Products vs. Labor and Expenses
The cost breakdown for basement remodels is, on average, about 25-30 percent finished products and 70-75 percent labor and expenses. This represents one of the most skewed remodeling projects in the industry. This cost imbalance speaks the unknown quantities present in the subgrade areas of any home. An ornate dry bar that requires little installation, other than handling, is one of a few products that will push these percentages closer together. Generally speaking, however, you can spend tens of thousands of dollars on the extensive preparation of an unfinished basement, before a single finished product is installed.
Outgoing Moisture: Waterproofing
When it comes to basement remodeling, whether you're talking money or logistics, it's most informative to follow the water. The first major step in basement remodels is waterproofing. It does nobody any good to install insulation, drywall, flooring, or fixtures without first removing, blocking, and ventilating sub-grade moisture. Not only do dank basements make for poor living areas, but few furnishings can endure long in a moisture-laden environment. Basement waterproofing is a tedious and inexact process. Newer homes can generally get away with an interior Drylok waterproofing treatment, but some homes built in the 50s and 60s also need exterior waterproofing for the foundation. Needless to say, this gets expensive, but you can't assume from the year your home was built that your foundation is or isn't in good condition.
Incoming Moisture: Plumbing Installation
Once you get the moisture out of the air, introducing water back into the basement can be an equally expensive proposition. Wet bars are one thing, but if you're planning on adding a bathroom to your new basement space, the total cost of the project, especially labor and expenses, will increase significantly. More than just waterproofing, where pre-existing moisture is removed from your basement, you'll need to install a waste line to get the bathroom water out of your basement. A main cost of any basement remodel is always the waste and vent lines.
Ready to start your
basement remodel

?Find Pros
Other Difference Makers: Electrical and Flooring
Like plumbing, the cost of hiring an electrical subcontractor pushes the cost breakdown toward labor and expenses. New electrical wiring, recessed lighting, etc, is one thing, but if you need a new electrical panel that can cost between $2,000-$3,500.
What you decide to do with your basement floor will also determine how much of your cost is devoted to finished products vs. labor and expenses. Laminate flooring, with its relatively easy installation, will have more balanced costs than the rest of your basement remodel. On the other hand, concrete staining, stamping, and finishing will further tilt the project's cost toward labor and expenses. Concrete staining is also a great example of how quality workmanship is often undervalued by homeowners. Though it lacks the tangible cost of laminate flooring, when done by an experienced professional, concrete staining can be every bit as functional, visually appealing, and cost-effective as laminate or other popular flooring materials.
Average Basement Remodeling Costs
How much does it cost to finish a basement? Basement remodels can be seen as a complex and expensive home remodel, or as a relatively simple and inexpensive home addition in the sense that it's new living space for the home. The average cost of basement remodels is around $20,000. This figure includes comprehensive basement finishing as well as partial or pre-finished basement remodeling.
The scope of your own basement remodeling plans will naturally determine the total cost of the project. Yet, knowing how your money is being spent, particularly in estimates from different contractors, will help ensure not just that you're getting the best price but the best overall value for your new basement.
No Comments Yet