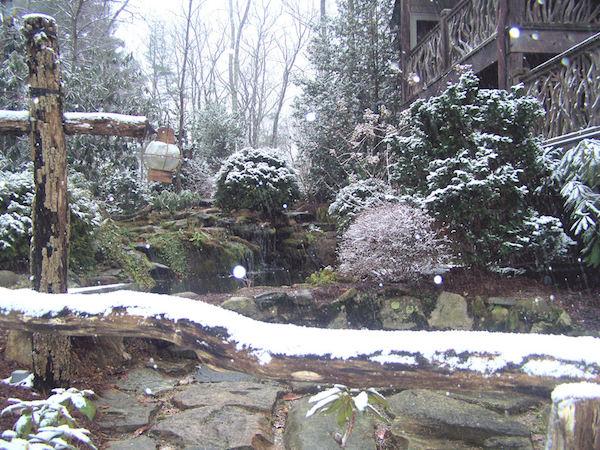 While most landscaping tips are concerned with tending plants during the growing season, winter landscaping is every bit as important if you want to have a great-looking lawn and healthy, vibrant plants. With the arrival of fall and cold weather, it is essential to complete a few projects to keep your landscaping protected during the dormant months. Prepare shrubs, trees and grass now, and they will return healthy in the spring and leave you with a neat, well-tended winter landscape.
Winter Landscapes: Preparing Your Lawn
Although grass appears to stop growing in the fall, the roots are actually growing deeper to prepare for winter. Now is the best time to fertilize and reseed your lawn. Feeding the lawn early in autumn will give the roots a boost before winter arrives. A second feeding in late October will keep it winterized and strong in the freezing weather.
Ready to start your
winter landscaping

?Find Pros
If your lawn has some bare patches, early autumn is a perfect time to install sod or reseed. Adding sod gives you an instantly perfect lawn that will be a pleasure when the warm weather returns. To firmly establish new sod, keep it moist for the first week after it is laid. After the first week, it can be watered as needed. Avoid having sod laid in hot, dry weather, as it will be hard for the roots to establish.
Be sure the sod contains varieties of grass that are indigenous to your region. The sod should not look dry and should be sitting on a pallet no longer than two days. It should not be warm to the touch. You can eliminate a lot of uncertainty by buying sod from a reputable grower. For types and average pricing, see our sod price guide.
Winter Landscaping Tips for Pruning Shrubs and Hedges
Pruning is very important to encourage healthy growth in spring. Most pruning should be done after the leaves turn, indicating that the plant is dormant. A good rule of thumb is to prune spring blooming shrubs immediately after flowering and to prune summer blooming shrubs in the dormant season. Pruning late in the growing season will encourage new growth that will be damaged by frost.
When pruning, use caution to make a good cut at a slight angle about 1/4 inch from the branch. You may want to hire a professional gardener to help with this delicate task.
Some shrubs need to be wrapped with burlap to protect them from frost. If you have experienced frost damage in the past, make sure to protect these plants before the temperature dips down. Spread a layer of mulch around the base of the plants to provide insulation for the winter. Wait until spring to fertilize shrubs and trees.
Landscaping Tips for Trees
Like most of the plants in your yard, trees need special care. It is important to keep tree limbs away from power lines and away from the roof of your house. Branches can easily pull down gutters or cause other costly damage if they are hanging over your house.
When planning to prune trees, consult with a professional arborist. He or she will know the best method for your species of trees and the correct time of year for pruning. A professional arborist will also know how to safely remove any troublesome branches without causing damage to the tree. Typically, tree pruning should be done in early autumn or late spring.
Preparing Landscape Fixtures for Winter
Winter landscapes are made up not only of plant-life, but of many other objects, as well. Just like the plants, however, these fixtures often require special care to weather the cold. Walkways and patios can take a beating in cold weather. Shifts in temperature and humidity can cause concrete and brick to heave and settle unevenly. Keeping them free of water build up and debris will reduce the chances of winter damage. If you noticed water or ice accumulation last winter, take steps now to provide proper drainage. This can be as simple as adding a small gravel drainage channel next to a walkway or fixing a gutter that drips onto steps.
Having a professional pool cleaning company winterize your swimming pool is essential. Drain the water and cover the pool to keep out leaves and animals. In winter, it is not uncommon for deer or other wildlife to walk over pool covers, so choose the strongest cover you can afford.
Hot tubs and spas will be a welcome treat in the cool weather. Make sure the heater and pump are functioning properly. If not handled correctly, water could freeze in the pump, pipes, or the hot tub itself, causing irreparable damage.
Ready to start your
winter landscaping

?Find Pros
No Comments Yet