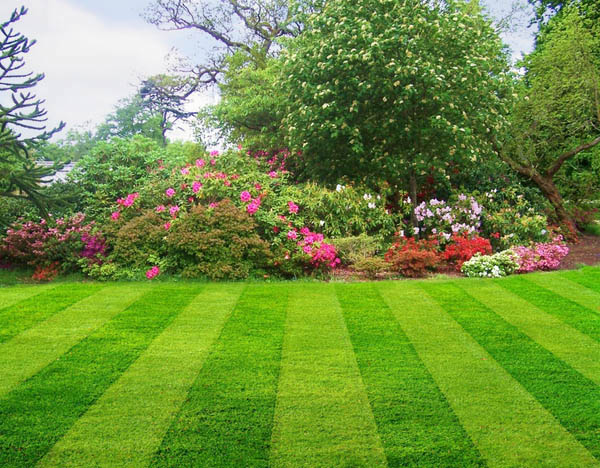 Seed your yard. New grass will give your yard a robust, healthy look. Use this step-by-step guide to jumpstart new grass growth in your lawn:
Rake your yard. Rake up any sticks, leaves or other debris in your yard. Extra debris kills sprouting grass and results in bare spots. But, extra leaves and grass make great compost.
Add topsoil. Use topsoil to fill in low spots and prep for new seeding.
Seed your yard. Spread new seeds around thinning or bare spots in your yard. Make sure to use sun- or shade-friendly seeds where appropriate. Mixing both kinds of seeds can result in lackluster growth.
Spread fertilizer. Use a natural or slow-release fertilizer to help your seeds grow. Some fertilizers also kill broad leaf weeds like dandelions and sow thistle.
Sprinkle topsoil. Spread topsoil over your seeded area to hold your seeds in place and protect seedlings from birds.
Test your soil. Use a soil test kit to detect mineral or nutrient deficiencies in your yard. Earthworms, cottonseed and compost are effective solutions to depleted soil. Soil testing can prove incredibly extensive given the information it can surface about your land. Consider investing in a professional to assist with the testing and analysis of the results.
How much does a perc test cost? Consult our Soil Testing Cost Guide.
Aerate your yard. Soil aeration breaks up hard-packed soil and allows nutrients to sink into the ground. For the best results, hire a professional to aerate your yard.
Exterminate pests. Hire a pest control pro to eliminate yard-damaging culprits. Japanese beetles, grubs and mole crickets can damage the look and health of your yard.
Water regularly. Water your new grass daily for 10 to 14 days. Avoid overwatering and creating run off — especially if you're using fertilizers. Excessive water can carry damaging chemicals into nearby bodies of water and harm wildlife.
1 Comments