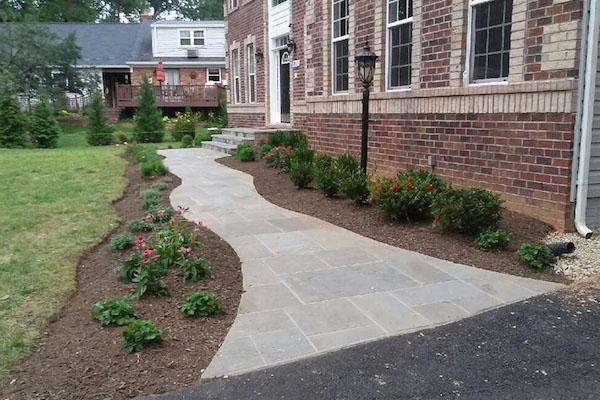 It may come as a surprise to many homeowners, but there is plenty of room to go green with driveways, patios, walkways, and interior floors that are constructed of brick, stone, or concrete pavers. Ranging from green strategies for more livable outdoor areas to green solutions that are healthy for the environment, here's a collection of some proven green remodeling suggestions to help ensure that your concrete paver, brick driveway, or natural stone patio, walkway, or floor is as green as they come.
The Costs of Going Green
To begin with, most homeowners are curious what it's going to cost to go green. Obviously, options like stone, brick, and concrete pavers are all going to cost you a little more upfront compared to pouring a concrete slab, though they're generally considered greener than concrete because their environmental impact is less harmful. With the exception of the lower cost of concrete, however, there's very little difference in cost between installing a driveway, patio, walkway, or interior floor that's green versus having one installed that isn't, and when it comes to interior floors built of brick, stone, or pavers, installing them with green in mind can lead to reduced home heating and cooling costs, as well.
The Real Value of Going Green
Of course, assessing cost and assessing value can be two completely different matters, and the true value of going green in these areas is worth far more than any figures involving dollars and cents indicate. For example, green driveways, patios, and walkways are more usable year round, they're usually built to higher standards with higher quality materials, and they can positively influence other areas of environmental impact around your home, such as reducing wasteful runoff from your property. All that aside, perhaps the most valuable aspect of going green is that you're investing in more sustainable, environmentally friendly way of doing things, and passing a better world on to your children and grandchildren. That's the kind of thing that's impossible to put a price tag on.
What You Can Do to Go Green
Just what exactly can you do to go green when it comes to the broad sweep of projects that includes driveways, walkways, patios, and interior floors made from brick, stone, and concrete pavers? You'd be surprised. Here's a list of suggestions on ways you can keep it green with your upcoming project.
Use Local Materials—When purchasing brick or concrete pavers, ask for materials made locally if possible, and choose indigenous stone from local quarries rather than stone not found in your area. By doing so, you'll save money on transportation and labor costs, and you'll help reduce the amount of fossil fuels burned getting the materials delivered cross country (or internationally) to your home.
Use Reclaimed/Recycled Materials—Using reclaimed or recycled materials is one of the best things you can do for the environment. It completely eliminates energy drains associated with quarrying, processing, and manufacturing new materials, and it saves discarded building materials from ending up in a landfill. In addition, recycled/reclaimed brick, stone, and concrete pavers are particularly well-suited for use in driveways, patios, walkways, and even interior flooring applications thanks to their potentially long life spans, durability, and high level of availability in many areas.
Build Patios Instead of Decks—If you're building an outdoor living area, patios tend to be lower maintenance, longer lasting, and use less materials than decks. To be even more eco-friendly, use clay; a pallet of bricks cost $300-$700.
Build Driveways, Pathways, Patios, and Walkways Using Permeable Paving —Building driveways, walkways, and patios out of gap-spaced brick, pavers, stone, loose gravel, or decomposed granite allows more water to seep into the soil, reducing unnecessary runoff that can pollute local water supplies. This is one green project that wont break the bank. The cost of gravel driveways are far lower than that of brick or concrete.
Build Patios, Walkways, and even Driveways with Southern Exposures—Patios with southern exposures will be more comfortable earlier in spring and later in the fall, since they receive direct sunlight year round. If you live in an area that receives regular snowfalls, south facing patios, walkways, and driveways will also cut down on the time you spend each year shoveling snow.
Brick, Stone, Concrete Pavers, and Thermal Mass in Indoor Applications—While many homeowners think of these materials first for outdoor applications, they can be valuable interior flooring options, as well. Even better, they all have a high thermal mass, meaning that if they're installed in areas that receive large amounts of direct sunlight during the cold season, your floor will absorb that solar heat and radiate it back into your home long after the sun has set.
Recycle Old Building Materials—As much as 85 percent of old construction waste can be recycled and used in other construction projects. If your project is going to require you to tear up or tear out old materials, be sure to look into how they can be recycled before you send them to the dump.
Which Shade of Green is Right for You?
While thinking green when it comes to brick, stone, and concrete pavers is a smart choice for your pocketbook, your home, and the environment, it's not unusual for homeowners to feel a little overwhelmed when presented with the full scope of green remodeling options. If you're feeling unsure about how green you're willing to go with your upcoming project, there's no need to worry. Going green is not an all-or-nothing proposition, and the truth of the matter is that any step you take in a green direction is a smart one.
If you do think green is the right choice for you and your home, talk with your contractor about adopting a green remodeling philosophy, find a contractor who specializes in green building and remodeling, or seek out the services of a green consulting firm so you can be sure that your new driveway, walkway, or patio project is as green as they come.
1 Comments