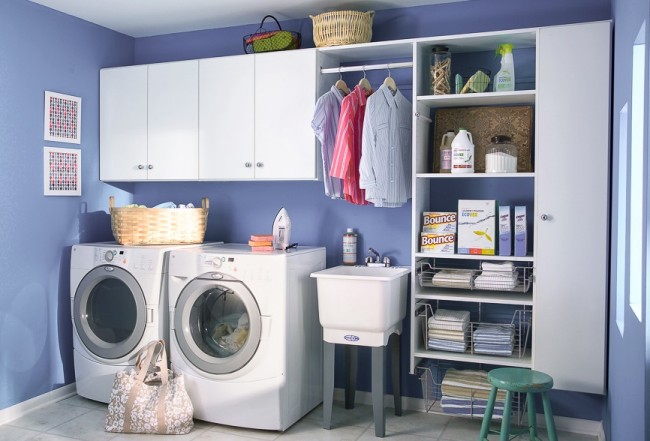 For several years now, kitchens and bathrooms have been, by far, the most popular home remodeling projects. While these rooms can have a tremendous impact on the resale value of your home, it's also important to look at recent trends to understand where home improvement is headed. Homeowners and home improvements contractors alike are just now beginning to understand the importance of a good laundry room. For an average size household, you can spend quite a bit of time doing your laundry every week, but the real kicker is the dread you feel knowing how tedious the chore can be. A well-designed laundry room can make doing laundry a significantly easier task.
The Room Itself
Part of remodeling or adding a laundry room to your home is simply the comfort of any finished room. Most people aren't dressed very warmly when they're doing laundry. If your laundry room is carpeted you can do laundry barefoot without dealing with a cold, basement floor. Laundry rooms also tend to be uncomfortably steamy. A ventilation system will take care of that problem. You'll also be surprised how much difference a window with an outside view can make. During the spring and fall, you can also throw that window open and let in the refreshing outside air.
Laundry Tasks
Laundry rooms also make all the tasks involved with washing clothes easier:
Sorting: Put bins in your laundry room and you'll be able to easily sort your different loads of laundry. Consider adding extra bins for clothes that need mending, clothes that need dry cleaning and clothes you're ready to donate.
Folding: Try to find room for a folding table. A flat, accessible space right next to your dryer will make folding your clothes a jiff.
Hanging: Today, an increasing number of clothes must drip-dry. Make sure you have a drain for the water to run into. Hanging clothes on plastic hangers is typically preferred as they don't rust or get tangled as easily.
Ironing: Also with today's specialized fabrics, an ironing board is becoming more and more of a necessity. A fold-up unit takes up almost no additional space so there's really no excuse not to have one.
Where's Your Laundry Room?
More and more, homeowners are electing to keep their laundry room on the main level of their home. Why carry loads of laundry up and down steps if you don't have to? The new favorite location is somewhere just off the kitchen. In particular, this is something to keep in mind when you're building a new home. If you're looking to build a laundry room in an existing home, you may have more options than you think. You may have a nook in the garage large enough to accommodate a small laundry room. Adding a small addition onto your home may not be as expensive or impractical as you think and will allow you to custom design the room for your purposes. Finally, if you decide the basement is the best place for your laundry room, it can be ideal to consider this in conjunction with a partially or fully refinished basement remodeling project.
No Comments Yet