March 17, 2017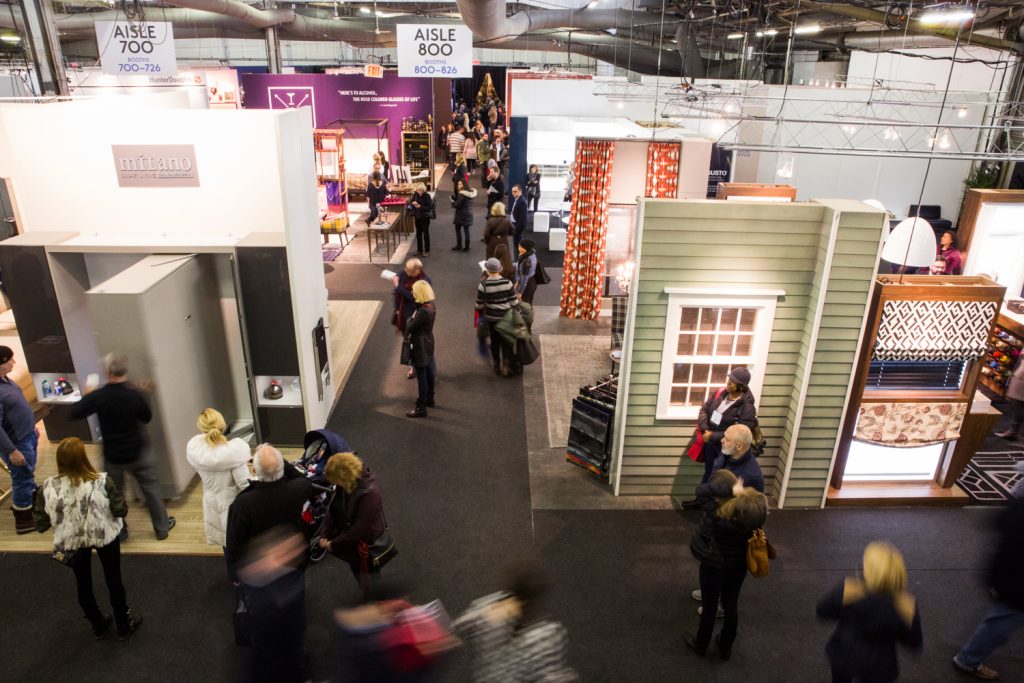 The Architectural Digest Design Show, which runs from March 16-19 in New York City, has always been about smart design. More and more, it's about smart technology as well. You wouldn't know that just from walking the floor, however. That's because the technology has become pretty much invisible, allowing the allure of the objects, from hardware to range hoods, to shine through. Here are seven products that demonstrate the trend.
Styling Smart Locks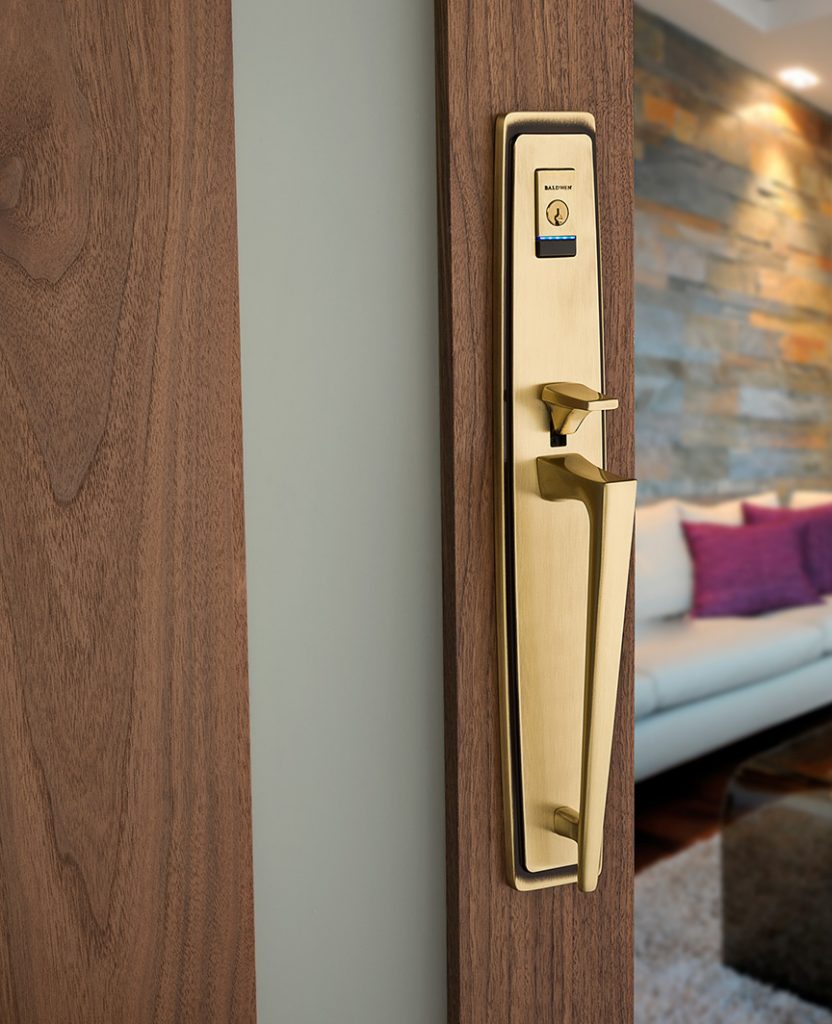 There used to be no way to miss a smart door lock, thanks to the blaring key pad and blinking lights. Baldwin, the manufacturer of high-end hardware, is turning that notion on its head with the launch in May 2017 of Baldwin Evolved, a smart handleset and deadbolt that's virtually indistinguishable from its conventional products. "There are a lot of smart locks out there that lead with the technology," says Kevin Bean, director of marketing at Baldwin. "We wanted to conceal the technology in a beautiful piece of hardware."
The Baldwin Evolved comes in 18 styles, including traditional, contemporary, and rustic, as well as 18 finishes, for a truly customizable look. Using Bluetooth technology, Evolved is touch-to-open solution—with a simple wave from your synched smart phone or fob in front of the discrete sensor, the lock opens and closes. The app allows you to issue "ekeys" for remote access, say for a house guest or contractor. It's also compatible with a host of smart home hubs, including IFTTT (If This Then That), so you can program your lights, heating and cooling, and other systems to turn on and off when the door opens and closes.
Evolved is a $300 premium over traditional Baldwin handlesets, which puts the suggested retail pricing between $750 and $1025, depending on the style and finish.
Mirror, Mirror
Standing in front of the bathroom mirror shaving or applying makeup is a good time to catch the morning news or your favorite podcast. Sure, your smart phone will work, but the Vento mirror from Ronbow, created by the Italian design house Pininfarina, lets you listen from a pair of Bluetooth speakers embedded in the sleek vanity mirror. Available in 30-inch($1,595) and 42-inch ($3,500) widths the mirror has a satin aluminum frame and integrated LED light that turns on and off with motion control; the smaller version also has a defogger and the larger doubles as a medicine cabinet.
In the Hood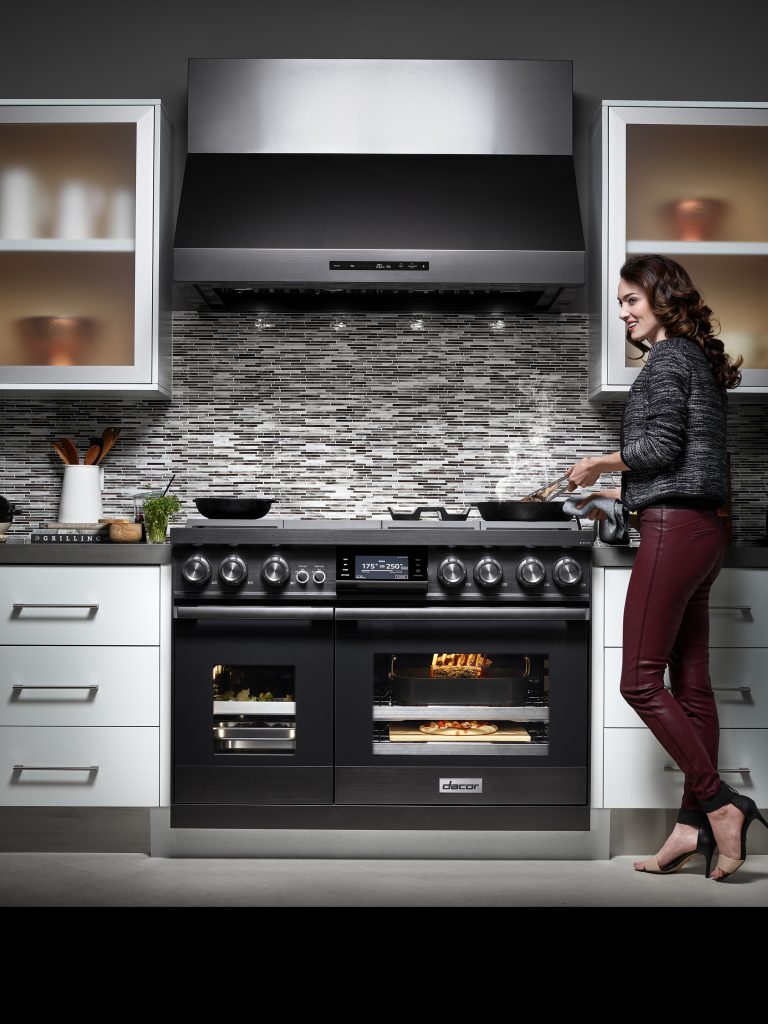 Another good place to listen to tunes? In the kitchen while you're whipping up a meal, which makes the range hood an ideal spot to tuck a couple speakers. Dacor is on it with its new range hood from its Modernist Collection with integrated Bluetooth speakers. Using Dacor's iQ technology, the hood can also communicate with compatible Dacor ranges to turn the ventilation up or down depending on how much heat and steam are coming off the cooktop. The hood comes in a new graphite finish, which is the Dacor's answer to the black stainless steel that many major appliance makers have introduced in the last year.
Content in a Box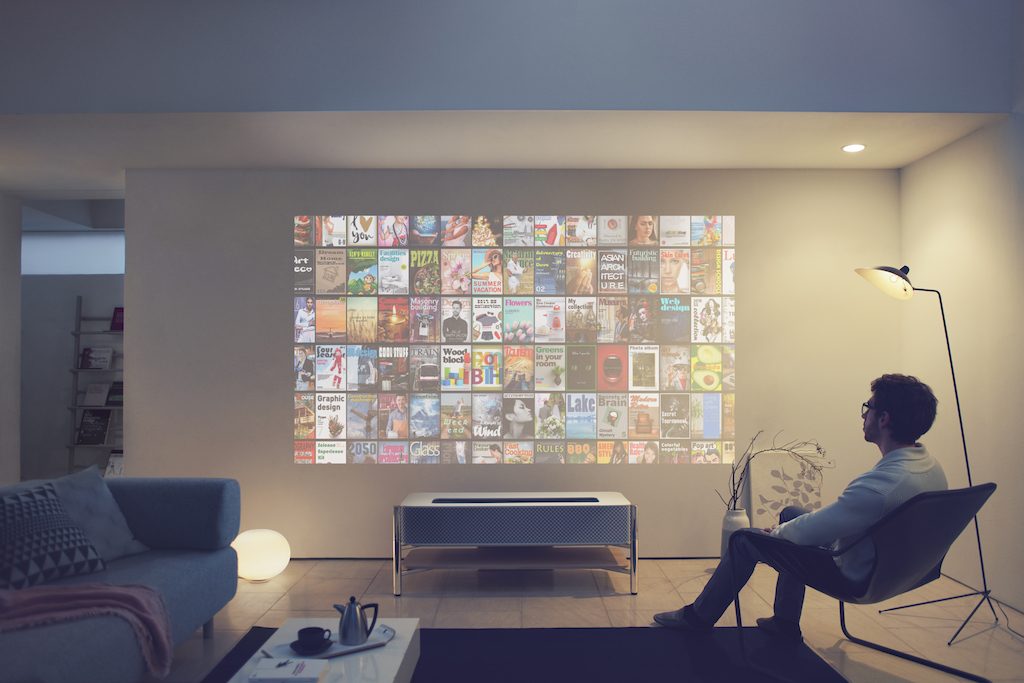 Remember what rear projectors used to look like? Big, ungainly boxes parked in the middle of the family room. Sony's Life Space UX is changing the game with its new 4K Projector, which resembles a midcentury modern furniture piece, but in fact is an all-in-one portal to all your content, including books, magazines, movies, and music. "The intersection of technology and design was inevitable and Sony Life Space UX is one of the best examples of this," says Karen LeBlanc, home décor expert and host of the Design Tourist. The 4K Projector is still at the concept phase, but it could be available later this year. It will join other innovative products from Sony Life Space UX, including its Portable Ultra Short Throw Projector, LED Bulb Speaker, and Glass Sound Speaker. For more information, go to sony.com/electronics/life-space-ux.
Smokin' Smart Tech

If you're into smoking meats, you know one of the challenges is maintaining even cooking temperatures—especially over the 15 to 20 hour-period that some cuts require. "You also don't want to be lifting the lid every hour to check the temperature of the meat," says Scott Grugel, president of Lynx Grills, which featured its Sonoma Smoker at the show ($2,499 for the built-in countertop model and $3,099 for the freestanding model). Its onboard LCD control panel provides real-time information or you can download the app to check the status of your food and also make adjustments to the gas-fired cooking temperatures, which range from 160-350 F. The smoke chamber itself can provide up to six hours of smoking on a single load of woodchips, so you can focus on your guests instead of running back and forth to the smoker.
Cool Connectivity

Smart refrigerators have been one of the hardest sells of smart home technology. Do you really need to check the contents of your fridge from the supermarket via WiFi-connected cameras? Jenn-Air's new smart fridge, $4,499 doesn't have that capability actually, but it does allow you to call for an extra batch of ice from your smart phone, nice if you're throwing a party later that night. You can also put the fridge into max chill mode remotely, say before leaving the supermarket with a full load of groceries for the week. Apart from its smart technologies, the Jenn-Air French-door refrigerator has a smart design, including cabinet-depth dimensions for a more integrated look and an obsidian interior, which until now was only featured on more expensive built-in models.
The Whole Suite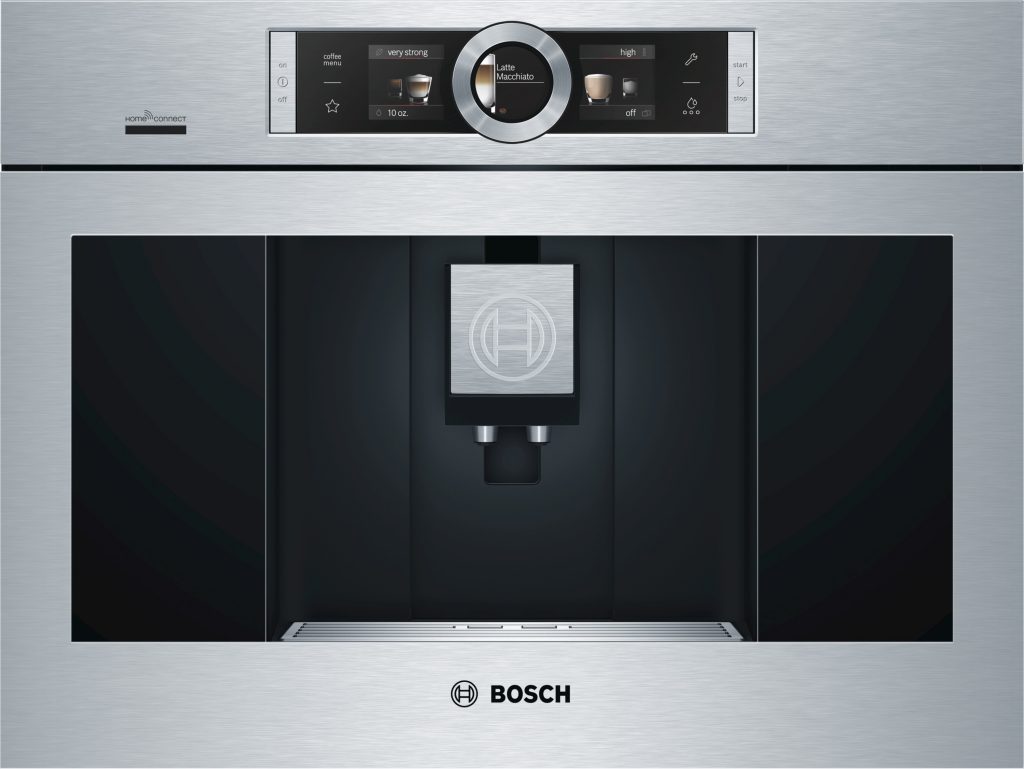 Bosch is winning the race for a fully connected kitchen. The coffeemaker and dishwasher are already here, with the refrigerator and wall oven coming later this year, along with connected laundry appliances. The built-in coffeemaker with Home Connect ($2,785) lets you start the water heating from your smart phone. With the dishwasher, you can see how long is left on the cycle from your smart phone or start the machine up remotely. It also integrates with Amazon Dash, automatically replenishing your dishwasher detergent supply when you're running low. That's all neat enough, but not exactly life-altering. What we like is the smart diagnostics, which allow the manufacturer to identify the problem if the dishwasher goes on the blink, potentially eliminating multiple visits from the repair person.
No Comments Yet